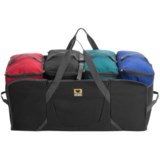 2nds. Haul it, store it, organize it... if you've got a lot of gear, you need the Modular Hauler 4. Durable, Mountainsmith-quality ripstop nylon holds four color-coded cubes and stores easily in your automobile or garage. Great for road trips, too!
Average Rating based on
338
reviews
4.307692
0
5
Verified Buyer

Reviewed by Mountain Mama from Idaho on Monday, April 25, 2016

Good quality and all the ski gear (coat, pants, gloves, thermals, goggles and ski socks) for a family of 4 fit perfectly. This was a good purchase.

Verified Buyer

Reviewed by PicklesandBones from Grand Rapids, MI on Monday, January 18, 2016

The Modular Hauler 4 is big (check out the size) and it is well built. The quality of the bags are wonderful. The whole package folds up for easy storage with the included storage bag, and it is a snap to get them ready to stuff. I believe the maximum weight is a total of 70lbs, that is less than 20lbs per bag. Considering the volume and weight capacity of the bags, to maximize the storage capacity clothing and soft items are probably best. The possibilities are big for storage ideas.

Verified Buyer

Reviewed by Betty from ID on Saturday, January 2, 2016

This was a gift; my sister is very happy with it. Perfect for her family of four. Arrived early. Thanks Sierra!


Verified Buyer

Reviewed by No from No on Saturday, October 24, 2015

My sister bought one of these and loved it! My husband and I Love this. They are easy to pack, water resistant, and fit in the trunk of the car and in the back of the Truck, with ease. They seem durable, and clean easily if needed. Would buy again.

Verified Buyer

Reviewed by mtmountainman from Montana on Monday, August 31, 2015

I took this car camping this weekend and it proved to be exactly what I had hoped for. A way to organize all my gear. Typically I have a duffle bag full of stuff and am constantly loosing stuff in it. This was an awesome way to keep different types of gear separate. Also, the waterproof lining on the inside is very nice to clean if you get food or dirt inside.

Verified Buyer

Reviewed by jadawoman from WI on Monday, August 3, 2015

You may want a hauler this size, but it is awkward and cumbersome to carry. The 3 place hauler is much more ergonomic.

Verified Buyer

Reviewed by S.Alt from New York on Saturday, July 11, 2015

These are for you! I love the color coded bags and the clear pockets on the tops (where you can easily stash a list of what's inside.)also awesome for car camping gear!

Reviewed by Genghis Mom from Western New York on Wednesday, June 10, 2015

We love these things! Perfect for packing the family for a trip. Each person gets a cube and they pack so easily into the van.

Verified Buyer

Reviewed by PACNORWEST mama from Pacific Northwest on Wednesday, May 27, 2015

Fantastic-I am already more organized :D
4 stars instead of 5 because the fabric doesn't stand up on its own. Not a big deal when full, but would have made this the perfect product.

Reviewed by Ann in Fargo from fargo on Thursday, May 21, 2015

The right size, shape, durability, and practical design. Have had 2 sets for 5+ years now, getting a third because I keep finding more uses for them. Don't often use the outer container for the cubes, but it makes a great log carrier for the fireplace -- this tells you it's sturdy. Also getting 4 new colors this time, great for finding things quickly!