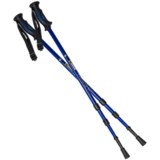 Closeouts. Reach the pinnacle of your adventure with this pair of Mountainsmith trekking poles, offering adjustable length and a built-in anti-shock mechanism that can be switched on for accents and off for stability during descents.
Average Rating based on
519
reviews
4.188824
0
5
Verified Buyer

Reviewed by Frozen Nothhland from Minneapolis & Grand Portage MN on Thursday, October 13, 2016

I bought these poles to help me on vacation. They were perfect! I had injured my right knee in May.
After consulting with my Ortho Surgeon he confirmed that it was bone on bone due to Osteo Arthritis.
I knew I would want to be walking a lot, and had a good friend tell me how much the trekking poles that he bought
had helped him before knee surgery. I bought the poles to insure I could handle rougher terrain, and keep going.
These were perfect! I can not guarantee that everyone will enjoy the benefits that I got from these, however I would highly recommend a pair of these or other trekking poles, to help anyone walk longer, stronger, and easier if you have any knee problems. These made my long 3-5 mile hikes on rough terrain possible. Really helped on the down hills when I was having the most pain. Get yourself a pair. They will help you get through the long rough trails.

Verified Buyer

Reviewed by Hiker Baker from West Virginia on Thursday, September 29, 2016

I bought these for a hiking trip I was planning. I had them less than a week when I took them on a 3 day, 20 mile trip. They functioned well out of the box. The rubber or metal tips both gripped well on the rocky trail. The poles adjusted well (I err'd on the side of not tight enough since others had complained of overtightening). Even so, I put substantial weight on them bending down to filter water and standing back up with no slippage.

The only thing I would consider a downside is that the grips are rubber instead of cork. This wasn't a big deal until it got hot on the first day and my hands started to slip/slide on the grips. On day 2 it rained for most of the day which created a similar problem.

Verified Buyer

Reviewed by First time hiker from Oregon on Monday, September 12, 2016

Since we weren't interested in buying expensive trekking poles for the casual hikers in the household, we bought 3 pairs of these for a recent 3 day hiking trip. They worked well, though one strap came off (1 out of 6); since my son doesn't like using the straps anyways, my daughter simply traded her defective one with him. All things considered, they worked quite well and I'm glad we had them with us. They provided nice stabilization on creek crossings, as well as making steep uphills and downhills much more manageable. There are a few features on my husband's nicer Leki poles (e.g. differently designed "head" that allows more variations in grip) that these don't have, but I don't think a casual or beginner hiker would really notice the trade off with such a great price point.

Verified Buyer

Reviewed by Adirondack Marf from Upstate New York on Wednesday, September 7, 2016

I had purchased the poles for trekking in Australia and New Zealand. I'm leaving next Tuesday and won't be back for a few weeks. I'll let you know more upon my return.

Verified Buyer

Reviewed by Ralph from California on Wednesday, August 24, 2016

Great product, have taken them out a few times and am very happy with them.

Verified Buyer

Reviewed by DWH from DWH on Saturday, August 20, 2016

Solid construction, should hold up ok

Verified Buyer

Reviewed by Mike from Las vegas on Tuesday, August 16, 2016

Good poles no complaints. Hiked angels landing and the narrows without a hitch!

Verified Buyer

Reviewed by Knitser from Connecticut on Monday, August 15, 2016

Good sturdy poles but the heavy rubber handles gives them some heft.

Verified Buyer

Reviewed by JimRockford13 from Michigan on Sunday, August 7, 2016

Great value, you can't beat these for the price I paid. We like them so much we gave a set to some friends.

Verified Buyer

Reviewed by So. Cal. Hiker from California on Wednesday, July 6, 2016

These are welll made poles at a great price. I bought a pair to give to my friend for her birthday and because of the great price I bought an extra pair to keep in my car.