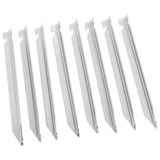 Closeouts. Never be frustrated by hard ground or bent stakes again. Mountainsmith's aluminum V-Stakes are extra durable, lightweight and notched for guy lines.
Average Rating based on
101
reviews
4.217821
0
5
Verified Buyer

Reviewed by Bama Hiker from Shiregrass of Alabama on Friday, January 27, 2017

These are a great alternative to the heavy metal tent stakes that come with most tents. They are about 1/4 to 1/2 the weight of most tent stakes, very durable and pack nicely together for less bulk. The design shape makes them very difficult to bend, so you can lash your tent cords in the center of the stake and wedge them in between or behind roots and rocks as an alternative method of securing your tent. Happy camping!

Verified Buyer

Reviewed by Stella from VA on Monday, December 19, 2016

works well and doesn't bend easily. I used these on my AT thru-hike.

Reviewed by Yogamom from New Jersey on Tuesday, December 6, 2016

for backpacking, not car camping.
just weighed them at 12grams each. There are probably some glass icicles on my Christmas tree that weigh more. They are not some soft aluminum, but a harder "7075" alloy. 3/8" x 3/8" angle has a cylinder joining the two sides (not just folded) which makes them really strong for the amount of mass.
Overall length of 7", gives you about 6" to put in the ground below the guy line. Given their small size, the notch for the line doesn't work well for rings or webbing (tent corners). I end up fully submerging that last inch once the guy line is adjusted.

Reviewed by Montana Ann from Montana on Tuesday, October 4, 2016

I've had these for a couple years now. They are light weight and look good. They will do fine in soft soil. Problem number 1: in order to help pull these out of the ground, I had to drill a small hole above the notched area to tie a string. Grab the string and they pull out easily. Problem number 2: for car camping, I carry a small tack hammer to get these into harder ground. Because they are v-shaped (2 sided) they begin to bend at the notch whether using a hammer or rock. Once bent, you can't straighten them because of the light-weight aluminum. I will consider purchasing MSR hog stakes because they are 3-sided but, quite expensive..

Verified Buyer

Reviewed by nilejam from WA on Friday, September 16, 2016

nice alum V stakes as expected

Reviewed by Kyle from Cheyenne on Thursday, September 1, 2016

the throat where the guy line attaches is far too narrow. if you plan on camping in anything other than very soft dirt or sand, plan on the heads of these bending beyond use or completely snapping off. half of mine broke the second time I used them. I will not be purchasing these again. spend a little more money and buy some 4-sided backpacking stakes, you'll thank me.

Verified Buyer

Reviewed by suMMit from Montana on Thursday, August 25, 2016

These are great stakes to use in rocky areas. Much easier to drive in than 7 shaped stakes and cut through hard ground.

Verified Buyer

Reviewed by ozarkansawyer from Arkansas on Wednesday, August 24, 2016

If you tent camp and don't have a couple sets of these cheap, durable v-stakes, you are certainly missing out. You normally can't bend this stake even in rock...really, secures the tent and the rain fly! Do yourself a favor and buy a couples sets for yourself and a couple for your camping friends-- they'll love ya for it!

Verified Buyer

Reviewed by Kampin' Kate from Illinois on Thursday, August 18, 2016

Recommended by a veteran backpacker! Very light and strong.

Verified Buyer

Reviewed by JoeBanks from The Island of Waponi Woo on Thursday, June 2, 2016

Decent stakes. The notched end works really well for holding a smaller gauge string, it really keeps the string from going anywhere.
They are aluminum, so they will bend easily if you are trying to pound them into an expecially hard or rocky ground.