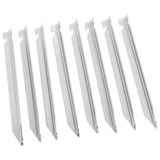 Closeouts. Never be frustrated by hard ground or bent stakes again. Mountainsmith's aluminum V-Stakes are extra durable, lightweight and notched for guy lines.
Average Rating based on
98
reviews
4.214285
0
5
Verified Buyer

Reviewed by Joe46 from Auburn, Wa. on Friday, March 11, 2016

Since they are made of Aluminum they are quite light. They are quite short so best used on very light weight tents.

Reviewed by Jay in Texas from Texas on Sunday, February 14, 2016

I like them, but they hold on to the mud when you pull them out of the ground. It's kind of akward to ahve to clean your tent stakes. Still, the strength to weight ratio and price are right.

Verified Buyer

Reviewed by arkhunter from Tennessee on Wednesday, January 27, 2016

These should be good replacements for the stakes that came with my tent. (round aluminum with a hook) which easily bend if you try to "boot press" them in to pretty soft ground. These feel much sturdier and don't weigh much if any more. (i haven't actually weighed them to compare.

Reviewed by Roy from Maine on Sunday, September 20, 2015

These are pretty easy to bend. I have had pretty good luck with them, except when someone kicks the peg as they walk past the tent. Bending them straight seems to weaken them more than the same process with round-section tent pegs.

If you camp in places without a lot of rocks, and if you camp where others are not tripping over your pegs, these will be fine.

I have some pegs which came with a Marmot tent, and they are fantastic. I now prefer the typical round-section peg to these Mountain Hardware pegs.

Verified Buyer

Reviewed by Zak from Minneapolis on Tuesday, September 15, 2015

They aren't going to put up with abuse, but for light duty these meet my needs.

Reviewed by Jarvis from Chicago on Monday, August 31, 2015

Listen to the 1-star reviews! I feel like most of the 5-star reviews never actually used these stakes. In a single backpacking trip I broke the heads off of more than half of these. I wasn't using a hammer, and the soil wasn't particularly hard. The basic round aluminum stakes from REI had no problems, and I'm sure a nice stake like the MSR Ground Hogs would have performed great. It seems that the notches for the guy lines are just too deep. Also it should be noted that the notch is deep and narrow. This shape may not work well for tents with webbing attachment points. Fortunately, these were really cheap because they were a total waste of money.

Verified Buyer

Reviewed by Doug from Port Moody on Tuesday, July 7, 2015

great price, decent pegs

Verified Buyer

Reviewed by happy camper from planet earth on Monday, April 20, 2015

Seem to be good little lightweight metal stake. I am real tired of the plactic ones.

Reviewed by Beesy from Ohio on Monday, March 23, 2015

My Mountainsmith Morrison 3 came with these as stock stakes so my review is based on use from acquiring them as stock.

Upon getting my Morrison 3 I picked up 4 additional MSR groundhogs (2 regular length and 2 mini) so I could fully stake tent/fly with an extra stake or two. I used these in conjunction with the groundhogs for all 25ish nights this review is based on. The Morrison stakes lasted about a week in Yellowstone before several of them bent or broke. They work well in softer soil. Anything hard pan and they fail fairly quick. I still have 7 of the 10 originals but 2 have the top portion folded over on the bottom. The top sheared clean off 3 rendering them non-useable. I have straightened the shaft on nearly all of them. Forget about pounding them into hard pan with a rock/hammer as they bend quicker than Neo's spoon (except they don't come back to form so easily!). The groundhogs were used in all the same conditions and show nearly no signs of wear except some anodizing missing on the tips and the tops. Several times the Mountainsmith stakes failed I was able to successfully drive a groundhog in without issue. On average they are about 2 grams heavier than a groundhog mini which is one inch shorter and about 3 grams lighter than a regular groundhog that is one inch longer.

Pros:
Inexpensive
Fairly light

Cons:
Not durable
Inconsistent weight/build (9.5-13 gram range over a set)
Bend/break easily

Other thoughts:
Spend a few bucks and rock some groundhogs for a more worry free adventure.

Verified Buyer

Reviewed by Go Vols! from Tennessee on Wednesday, March 11, 2015

These appear to be well made aluminum stakes.