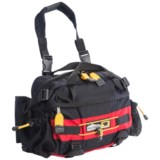 Closeouts. Explore the city or head out for a short hike with Mountainsmith's Tour lumbar pack; all your essentials will be securely stowed and at your fingertips thanks to its convenient, well-thought-out design.
Average Rating based on
30
reviews
4.566666
0
5
Verified Buyer

Reviewed by jon's Account from illinois on Friday, May 5, 2017

Good Day Pack with 2 Exterior Water Bottle synched holders
Sholder & waist Pack
Yellow Inside
Will hold Ipad


Verified Buyer

Reviewed by Ben from Oregon on Tuesday, April 25, 2017

I bought my first Mountainsmith Tour lumbar pack in 1987 in college and started looking for a replacement recently. I was disappointed to find the modern version of this pack oversized and insufficiently and under supported by the two stabilizing straps on each side that attach to the waistband and also function as compression straps. This pack is identical to my original pack with excellent support and stability, and small side pouches added. I am so glad I found this closeout at Sierra Trading Post! I have already used it twice and it's as good as it ever was! I use this pack mountain biking, cross country skiing, and hiking. And, combined with a short back pack it is ideal for "carry-on" only air travel.

Verified Buyer

Reviewed by river city from CA on Saturday, November 5, 2016

This looked great and I wanted something for long dog walks that I could put my camera in and access it from the front but, unfortunately, never really used it so I finally gave it to my daughter

Verified Buyer

Reviewed by J,I. from Nevada on Wednesday, September 28, 2016

Nice smaller waist pack for short walks with my dog. Just to carry water, bowl, some shade, and a few emergency items. Nice...

Verified Buyer

Reviewed by Pedro el Garrulous from WA on Tuesday, September 27, 2016

I've had a Lowe waist pack for 25 years (+/-) that has good dimensions for me: wide across the back and not very tall. It was used primarily for cycling, where I don't need it to carry hydration. It held an extra layer, wallet, cell & keys in a nice tight package. In a pinch, I could strap another layer on the outside. Except for the Mountainsmith, today's packs tend towards short and tall, which tend to feel saggy when stuffed full. The MS is larger and has water bottle capability (both minuses), but it's functional, comfortable and appears to be very well constructed. Also, it's a bit busy for my taste, so I've chopped off the top snaps, eliminating all possible use of that silly strap. Still, in spite of the drawbacks I've mentioned, I like it.

Reviewed by Pack Leader from Ohio on Saturday, September 17, 2016

I am an older person who enjoys day hiking with my dogs. I have a bad shoulder and even though I only carry about ten pounds, a backpack becomes uncomfortable very quickly. I worried that this lumbar pack wouldn't be big enough for all that I like to have with me but it is actually very roomy and I have yet to fill it. I roll my raincoat and strap to the bottom of it with the straps provided. I have been out three times with it and never thought of it once...it is so comfortable. It allows your back to breathe....and the compression straps allow you to tighten it down so there is no flopping. Water bottle pockets have elastic cinches to tighten around whatever size bottle you like. I do wish it had pockets on the side that you could reach without taking it off....but that's the only improvement I can suggest. I debated between the Tour and the larger style....but the larger one would have been TOO big for my purposes. I am delighted with the Mountainsmith Tour Lumbar Pack....no more backpacks for me!

Verified Buyer

Reviewed by Cedar817 from Alaska on Monday, August 29, 2016

I had a lumbar pack that I liked except for one thing...the pockets for the water bottles were tiny. They wouldn't hold a large 32 oz. water bottle. This pack does! In fact, it holds two of them! It is very well made and I am so happy with it. I got it out of the box and immediately tested the space for the water bottles. Great for day hikes when you don't want to take the whole pack for a small amount of supplies. There is a bungee cord and added straps on the bottom that would easily hold a rain jacket or lightweight fleece. Plenty of room on the inside for bird books, bug spray, sunscreen and snacks!


Verified Buyer

Reviewed by Crockett from MA on Monday, July 11, 2016

I have had one of these for 25 years or so and it is still in great shape. However I sometimes carried a handgun in the old one (legally of course) and the airport security folks don't like how it smells. So I found this as a replacement. Same great MS quality and now I have one to take on trips with me.

Verified Buyer

Reviewed by Pamela Jane from Western NY on Tuesday, June 28, 2016

This pack is well made and has many nice features. However, I wanted it for a camera bag and it is not padded enough for that use. Plus it is bigger than I need or can comfortably wear on my 5'7", 130# frame.

Verified Buyer

Reviewed by Flywheel from NH on Wednesday, May 18, 2016

I have a Mountainsmith Lumbar pack from 25 years ago and it has been my goto pack for day hikes. Many of the newer lumbar packs are not built as well, unfortunately, and it seems like they are all going in that direction. The biggest issue is that the newer packs use a single point stabilizer strap to pull the pack in tight to your back. My old pack and this pack use two stabilizer straps per side with means that after you tighten the waist strap, you can cinch in the bottom and then the top oft he pack towards your back and it does not flop up and down. The newer ones only use a single cinch point on the waist belt and it tends to flops when you walk. Even more annoying, when a pack hangs out away from your back, it tends to feel heavier than it is, and this is a deal-breaker.

I gave this pack 4 stars because envy though it is built "almost" the same as my 25 year old pack, the area where the stabilizer straps attach to the belt are closer together and conch about 95% as well as my old pack. It is a miss by Mountainsmith and certainly a huge miss on most of the newer bags in their collection. So I bought 4 packs. I have 4 of these, a hemp one that is EXACTLY like my old one, and then my old one. I plan to give a couple away to friends - I advise getting this pack if you want the best pack out there before they are discontinued forever.