MSR

Colors

Reviews

Prices

Search Within
Mountain Safety Research, or MSR, is a company of Cascade Designs and one of the first companies to become dedicated to the mission of creating safer climbing equipment. Now dedicated to producing all types of quality outdoor equipment like camping gear, stoves, tents and pack towels, MSR remains one of the top choices for the outdoor enthusiast. Some of the most groundbreaking products came from MSR in its history. MSR camping gear, like MSR stoves, tents, pack towels and more, are found on the most extreme expeditions around the world because their products are truly among the best.
About the MSR Brand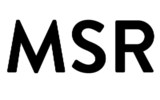 Verified Buyer

Reviewed by Eric from Montana on Thursday, July 21, 2016

Good for the later parts of the evening. Doesn't blind you when turning it on in the middle of the night.

Verified Buyer

Reviewed by Farhomthat from Central IL on Monday, June 13, 2016

Does not have white light capability. Lightweight.

Reviewed by MissingMoss from Outside on Tuesday, May 3, 2016

Obviously, there haven't been any new Starlets made for a while, but I'm sure there are still plenty of them being used. I am a little astonished that MSR didn't keep making this design (although I am glad to see the Stardome live on as the Fury, and the Big Dipper live on as the Stormking). There isn't much on the market that uses quite the same approach (2 poles crossing twice in a small tent); the only tent like this that I have seen of late is the Easton Rimrock 1P which (at least, design-wise) resembles a smaller Starlet.

Anyhow, if you are seeking a footprint / ground sheet for a Starlet, the Big Agnes Fly Creek SL2 or UL2 is a pretty good fit.

Receive email updates for new MSR items