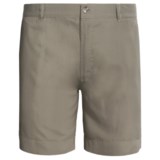 Closeouts. Weighing in at a scant 6 oz., these high-performance shorts from Narragansett Trader are built for the adventure traveler, with plenty of pockets to stash your daily, on-the-go essentials.
Average Rating based on
53
reviews
3.943396
0
5
Verified Buyer

Reviewed by Isaac from Massachusetts on Wednesday, March 18, 2015

I could not believe that these shorts were for a full size man-they are so light. I love the extra pockets and they are true to size and good looking all in shorts that weigh as much as my bandanna!

Verified Buyer

Reviewed by Tank from Maryland on Sunday, February 8, 2015

Great value for the price .Love the zippered pocket . just have to see how they hold up.

Verified Buyer

Reviewed by Okitatsu from Southern California on Friday, December 19, 2014

I like the fit of these shorts. The inseam is just right for me, the pattern on the shorts makes it stands out from my other shorts, and it seems durable enough to last along time.

Verified Buyer

Reviewed by Hiker from Western NC Mountains on Tuesday, October 14, 2014

The shorts are super lightweight, which is good if that is what your looking for. Very easy to pack. I would not wear them if I were going to do some rough work as they probably would get destroyed, but for casual wear, warm weather or hiking they should be great. They are a cut a little bigger than normal for large, but they are close to a true large. I ordered 4 pairs, 3 were good. One was marked large but was really an XL and I had to send it back to get another one that was sized correctly. The leg openings are larger than average. Again, not a problem, but some may not like the cut. For the price a great deal.

Verified Buyer

Reviewed by Ga_Mtn_Lady from Ellijay, Georgia on Monday, September 8, 2014

Mt husband does not have a big butt. These pants were actually to tight in the butt, in addition to being too small overall. A 2XL they were not.

Verified Buyer

Reviewed by A Fairport Fan from Southeastern Massachusetts on Saturday, September 6, 2014

They fit well, they're a good length, the light weight makes them wonderful for travel, AND my husband likes them! Could not beat the price of $5.95/pair.

Verified Buyer

Reviewed by Dad from SD on Friday, September 5, 2014

Very light yet sturdy material. I have worn them hiking, kayaking and mountain biking. Quick to dry. I call them my "barely there" shorts. Beware the caveats about sizing. I am a 36" waist and got the large size which is meant to fit a 36"-38" waist. There is no elastic in the waistband so do the math on how big they are to fit a 38" waist. That being said, I have big thighs and love the fact that they do no ride up on me when mountain biking.

Reviewed by MCS from San Diego on Saturday, August 30, 2014

I bought these on Barn Burner sale - so cheap, how could I not. I ordinarily wear a 34 waist and the smallest size they had was "L" 36-38. The reviews were mixed on if these were true to size or not, so I took a chance. Looking at them now, I'd say they are true to size - it's a bit big on me, but I'll probably keep them and wear them with a belt (or stitch in some elastic), because they weigh nothing, look great, and were practically free. :-)

Verified Buyer

Reviewed by andyinme from Maine on Friday, August 29, 2014

These run a little big on me, or maybe I've lost more weight... They appear to be sturdy, and really do weigh nothing, The side pocket, which would be perfect for a smart phone, is divided into a pen size and a flip phone size pocket. I have several other slacks and shorts with the same 'feature'. Overall, I'm very happy, particularly given the price.

Verified Buyer

Reviewed by Ken from Burien, WA on Sunday, August 24, 2014

These shorts are very lightweight, but I've had mine for two months now and they are holding up just fine. They are quite comfortable.