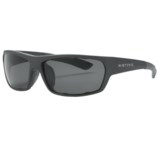 Closeouts. A perfect fit for smaller faces, Native Eyewear's Apex sunglasses feature a lightweight and flexible Rhyno-Tuff® Air Frame with a venting system that fights fog and interchangeable, polarized lenses that cut glare.
Average Rating based on
23
reviews
3.347826
0
5
Verified Buyer

Reviewed by Karen M from Washington on Sunday, August 14, 2016

I love these, and was so afraid of buying them without trying them on. Glasses are usually way too large on me and slide off. In addition, I have long eye lashes, and most glasses fit so close to my eyes that I can't comfortably blink my eyes without brushing the lenses. These sit far enough away from my face, have a non-skid rubberized end that keeps them in place during physical activity. We did several long day hikes on a recent trip to Montana, and this is the first pair of glasses I actually forgot that I was wearing. I ordered black but received tortoise shell, but it turns out it was a happy mistake. I think I like these better.

Do take the time to measure the distance temple to temple if you're unsure. The stated measurement in the description was accurate.

Verified Buyer

Reviewed by Mark from Virginia on Tuesday, October 6, 2015

I have a small face and have a very hard time finding glasses that fit well. These are small and fit well width wise but the lenses are also small. This lets in a lot of light from the bottom of the lenses. I have decided if they're going back yet or not.

Reviewed by E3Mama from Boston on Thursday, January 8, 2015

Very high quality but.. These fit my 6yo daughter perfectly. Unfortunately they were for my husband. They're going back.

Verified Buyer

Reviewed by Jan from NC on Sunday, November 30, 2014

Believe it or not, there are adults who have smaller faces! Some reviewers are claiming that these won't even fit some children.....they fit me perfect and I am a 53 yr. old woman! I absolutely LOVE them! This is my 2nd pair! I lost my first pair a few weeks ago and immediately went into panic mode! I went straight to STP and got another pair. I'm hoping they will get in more of the tortoise shell. Those were my favorite, but hey....I'll take the black and gray! I have a few other pairs of Native Sunglasses as well as Costas. The Natives are by far my favorite! They fit much better and I love the interchangeable lenses and venting on the top! Just be sure and check the temple to temple measurements. I am a true 4 1/2 ". These are great!

Reviewed by kelsumw from Montana on Thursday, July 3, 2014

I bought these for my husband. They seem like nice sunglasses, but they barely fit my head and they were way too small for him. I had to return them. These would likely fit kids, maybe teenagers.

Reviewed by an interested party from Utah on Friday, April 18, 2014

I used my sunglasses for 3 years in the field and for skiing. I just broke them swapping lenses. Glued them back together with gorilla glue and they seem to work fine. I don't have a small head, but I do need glasses that can take the day to day rigors of field work and not slip off my face. Love the copper color for driving and the dark glasses for snow. Just make sure you pop the lenses out properly and don't use gorilla glue within the warranty period.

Reviewed by Dakota from Alabama on Friday, April 4, 2014

Love Native sunglasses! Very hard to find sunglasses that fit my smaller face. Unfortunately these were just too small. Almost like a child's pair of glasses. As usual they are well made and stylish, but unfortunately had to send them a back for a different pair.

Reviewed by S. in NH from New Hampshire on Wednesday, March 5, 2014

These definitely run small. Better for a teenager's face.

Reviewed by colorado girl from Denver on Tuesday, February 11, 2014

Bought these sunglasses for my 24 yr old daughter, 5'3'' 115 lbs--perfect frame for her small bone structure. Great for hiking, biking, other sports (or everyday commuting)--silicone grip on the nose bridge and behind the ears keeps them secure; extra set of lenses work well in overcast skies. Comes in a protective case w/an extra fabric drawstring bag. Love the excellent quality and classic style.

Reviewed by Buttercup AT from Missouri USA on Friday, February 7, 2014

These were even too small for my best girlfriend who always wears kids sunglasses. She tried them on and they would be a little uncomfortably tight on the temples. STP needs to put these with the kids sunglasses. No normal adults have heads this small. That said, I'm keeping them for my 3 year old son who these stay on well and the case is big but holds my Lodos with room to spare.