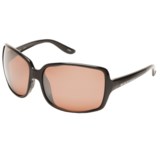 Closeouts. Curvy, ultralight and ventilating Rhyno-Tuff® Air Frames may make Native Eyewear's Lulu sunglasses stylish and comfy, but the glare-cutting polarized Reflex lenses make them a high-performance choice for any season.
Average Rating based on
11
reviews
4.363636
0
5
Verified Buyer

Reviewed by amarielle from upstate NY on Wednesday, September 24, 2014

These glasses are huge: 2 1/2" across each lens and 2" high. The bridge, however, is very narrow. I have a medium size face, and the huge lenses and narrow bridge make me look absurd--as my 10 year old said--"if you wear those out, people will wonder what's up with you." My husband burst out laughing when I put them on. Having said that, the glasses are comfortable, they cover every bit of my visual space, and the rose colored lenses are really nice. I am keeping them to wear when I mow and walk the dogs because my eyes are happy wearing them--I just can't wear them in public.

Reviewed by Desert Doctor 66 from OBX, NC on Monday, August 25, 2014

I live at the beach in NC. Sunglasses are a year round necessity! The frames appear small but expand to a comfy fit. The lenses are amazing! Think of life with rose colored glasses! Clear, beautiful and comfortably snug! The shape is hip, and ready to rock the day!

Verified Buyer

Reviewed by Noelle from New Hampshire on Thursday, July 10, 2014

I know a lot of reviews said they were small and maybe I have a small head, but they fit perfectly! Native makes such high quality products. I've never been much of a sunglasses girl, but I've been out a lot more this summer than usual, so I decided I needed some. The polarized lenses are great for me because I hate when regular sunglasses make everything feel dark- I don't feel safe driving with them on, but these are different. I actually see better with them on than without! These ones have a bit of a rosy tint, which I prefer. The best part is, they're at a reasonable price and Native has such a great policy, that I don't feel like I have to be super careful with them (I have a tendency to scratch/break/lose sunglasses).

Verified Buyer

Reviewed by Homesteadhare from Virginia on Monday, April 28, 2014

These sunglasses fit my smaller face perfectly and stay on well during activities. It would be great if Native sent them with other lenses and a hard case but the price was perfect for my budget and so I can forgo the extras. Definitely the best fitting sunglasses I have ever worn and lightweight.

Verified Buyer

Reviewed by SUPrGirl from St. Petersburg, FL on Tuesday, April 8, 2014

These are super light and wrap around a smaller face really well! They look fashionable, but being a water girl, they do the trick against the glare. An awesome buy!!!

Verified Buyer

Reviewed by Meg from Virginia on Sunday, April 6, 2014

Great glasses except would fit better on a smaller face. They didn't fit my face right. The lenses are excellent!

Verified Buyer

Reviewed by Meg from Virginia on Sunday, April 6, 2014

The glasses are great except they fit better on a smaller face. The lenses are excellent!

Reviewed by NA from Virginia on Saturday, December 28, 2013

Pretty good for the price.

Reviewed by Chris from Upstate NY on Tuesday, September 24, 2013

Bought these as a gift for my fiance who never spends more than $10 on glasses. She had to adjust to them because they are very lightweight and felt cheaper at first, but she found that they are much more comfortable because they are so light and now loves them. They have a rose tint to the lens, and have a slightly reflective coatingThis was a replacement purchase unfortunately, because she lost them at a ball game. If she looses these I guess she's back to $10 glasses :)

Reviewed by Boot Lover from TN on Thursday, June 20, 2013

I really like the sunglasses. They are more for a small framed individual. I am probably more towards a medium frame(5,7", 127lbs) but they still work. I do love the nose grips and lens color.