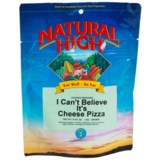 Closeouts. Enjoy Italian flavor and pizzeria taste in the great outdoors with Natural High's cheese pizza. The crust cooks in a separate skillet, and the cheesy tomato sauce can be prepared right in the bag.
Average Rating based on
3
reviews
1.333333
0
5
Reviewed by Chalk2crux from Alabama on Sunday, November 17, 2013

After trying this product, I must say "I CAN'T BELIEVE IT'S CHEESE PIZZA" either! They sure got this one right with the marketing. This looks and taste nothing like cheese pizza. It's yuck, yuck, yuck. Thank goodness that didn't name it "CHEESE PIZZA"... boy that would have been a disappointment.

Reviewed by Mirving from New York on Thursday, October 10, 2013

This product should be named "I can't Believe they call this Cheese Pizza." I bought 20 of these for my Boy Scout Troop's 30 miler thinking that I would introduce MRE's to the boy's experience, and Hey, Everybody Loves Pizza.... Thank goodness that I made one first before setting out on the trail with this stuff. I will admit that I didn't realize that I had to cook the dough separately from the sauce/cheese topping. I know that not reading the specs was my fault. Instructions were clear on the packaging. I adapted to the dough cooking part by adding cooking spray and frying pan to my Jet Boil set up, although I wasn't happy to add to my pack's weight. I cooked the dough and it came out great and cooked perfectly (that's why I gave one star). The sauce and cheese mixture was terrible and ruined the nice dough part. The sauce tasted like over cooked tomatoes and was totally over spiced. I had my husband and my son taste to make sure it wasn't me, and we all agreed it was bad. Well, now I have 20 packages and a Troop heading out for a 30 miler this weekend. I am bagging up some sauce and cheese so we can use the dough part, get through our hike and nourish ourselves. I will instruct the boys to discard the sauce/cheese mixture and use the bag for hot water to warm the replacement sauce. Don't buy this product! The manufacturer needs to go back to the drawing board with this product and taste it before they sell it!

Reviewed by troutwild from Sierra Nevada, California on Wednesday, October 9, 2013

OK, simply put, it doesn't take a rocket scientist to mix and cook a decent pizza crust on the trail. Flour, water, a little yeast and, voila! Same deal for pizza sauce. Dehydrated tomato paste, a little oregano and garlic, pretty simple. Following the instructions, the crust puffed up like a proud souffle with indications of egg in the mix, something like you would make a chili relleno with. The sauce didn't fare much better. I didn't actually expect a bright, cheery red Wolfgang Puck sauce but what came out of the bag was a dark brown, sour gravy with a hint of Chef Boy-Ar-Dee cheezyness. I suppose if had I hiked 20 miles that day instead of only 12, perhaps my level of hunger would have contributed another star to this review but as it stands, I would only recommend this as a last choice survival option.