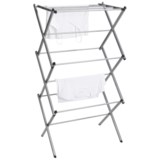 Closeouts. No room for a clothesline? No problem! neatfreak!®'s compact drying rack comes to the rescue, supplying 19' of total hanging space in a compact, foldable design.
Average Rating based on
59
reviews
4.694915
0
5
Verified Buyer

Reviewed by Kathy from Seattle on Thursday, December 15, 2016

Very sturdy, high quality, with smooth bars so clothes don't snag. Good looking and compact.

Verified Buyer

Reviewed by Zingara from Minnesota on Thursday, December 15, 2016

Love the metal rack.
In the past I have had wooden dowel drying racks and they can get moldy if it takes long to dry a sweater.

Verified Buyer

Reviewed by Me from WA on Monday, December 12, 2016

Don't know why but expected a larger unit although I prefer this. Stores easily holds enough for me and doesn't take much drying space in the room. Appears Sturdy enough to last and hold clothes, but over packed it could fold. It could be tethered with a string and hold Heavier things like jeans or more clothes

Verified Buyer

Reviewed by ABR from OR on Monday, December 12, 2016

Nice drying rack.

Verified Buyer

Reviewed by Gardener in Philly from PA on Saturday, December 10, 2016

I already had one of these and decided to get a 2nd. This is great for hanging all kinds of small items, like socks.

Verified Buyer

Reviewed by skilletgirl from Mountain View CA on Monday, November 7, 2016

This is useful for drying clothing inside. It looks nice and is sturdy enough for its purpose.

Reviewed by AM from Nebraska on Wednesday, November 2, 2016

Doesn't fit a ton of clothes, but met my needs for drying a few small items I don't want to hang to dry.

It's great quality though and it folds up small for storage. I haven't found anything of comparable quality anywhere close in price so if I decide I want more drying space I'll probably get another one of these

Verified Buyer

Reviewed by Pawpaw from Massachusetts on Wednesday, October 26, 2016

This is very useful. I have this drying rack set up in front of my wood stove for drying my laundry. I have been happy without owning a clothes dryer for over three years. I would like to buy another one in a larger size.

Verified Buyer

Reviewed by D from WI on Tuesday, October 25, 2016

Quality is very good, especially for the price, and the size is perfect for a small space, or when you only have a small amount to dry. This is an item we have re-purchased!

Verified Buyer

Reviewed by Snappycomeback from Oakland, CA on Wednesday, April 27, 2016

So I bought this as a drying rack for my hand washable sweaters. I'd been washing them then laying towels on the floor to dry them on. I'd have two and three towels on my floor for 2-3 days waiting for them to dry. What a nuisance. The first day I got it I set it up to admire it. Sturdy, well-constructed, lots of places to hang things. Then, at the end of the day, as I was taking a sweater off I'd worn once, I ended up placing the sweater on it to potentially wear again the next day. Then I hung a pair or pants I'd worn once but didn't want to hang back in the closet. This rack has become the place I hang multiple tops and pants I'm wearing a few times over during the week before washing them. I don't feel any need to wash a garment after wearing it once but don't necessarily want to hang it back in the closet with "clean" clothes. I might have to buy a second one to actually use as a drying rack.