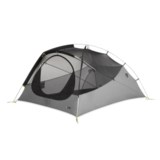 Closeouts. Nemo's Espri LE 3P tent has a plethora of design innovations that create large interior volume, excellent ventilation and multiple vestibule configurations. This lightweight three-person tent works great during all seasons.
Average Rating based on
1
reviews
3.000000
0
5
Reviewed by Polyoly from Colorado on Thursday, January 2, 2014

With the discounted price, this is definitely a lot of tent for the buck. Ventilates very well (more on that later), reasonable use of space, good sidewall geometry, quick pitch, stable, non-irritating fly color (for interior environment), etc. It includes both a standard zip-in front door and an extended vestibule. There used to be a nice trekking pole supported vestibule available for this model, though I think those are gone for good. If you're looking for a tent that will work in light to moderate VERTICAL rain, and sleep two adults of average proportions comfortably (possibly including an additional small mammal, though it would have to be quite small indeed), then this tent is a winner.

There are a few substantial issues that should be noted regarding the design and construction... Primary of which is the fact that the rear scoop vent (which is a substantial opening promoting ventilation) cannot be secured (shut). If you do a good weather-wise pitch in a wind of stable direction and relatively stable velocity, you'll be fine in a downpour. If, however, your wind and precip is of varied direction and/or gusting, you're going to get wet. Very wet. If you pitch the tent front-door-to-the-wind to mitigate the problem, you end up with a similar issue on access and egress. In short, (my opinion) it doesn't work well in any sort of hard blowing precip. Surprisingly so. Also, the cross support pole that keeps the sidewalls out is extremely difficult to get into the final grommet (feels like stringing a 100lb bow). the stitching to the grommet tabs is (visibly) under a remarkable amount of stress and will likely eventually fail (sooner rather than later). Also, the light mesh used for the front pole sleeves tends to snag and seize easily when threading poles. I can envision poking holes in the sleeving fairly easily on setup, further exacerbating the problem. The fly also takes more staking out than I had expected to keep it from flapping (based on other Nemo models I've tested or own). Again, somewhat of a surprise and contrary to my expectations for this design and manufacturer. Thus, in the right situation, it's a great tent, just don't expect it be an uber-tent for all 3 season conditions that one could reasonably expect to encounter. Hope that helps.