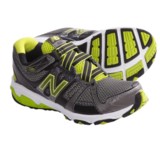 Closeouts. Around the block or across the schoolyard, New Balance's KJ689 running shoes provide a cushioned and nimble ride with ABZORB® shock abortion.
Average Rating based on
12
reviews
4.500000
0
5
Reviewed by Cooper Doodle Walker from California on Friday, December 6, 2013

These shoes are perfect for my school age child. The Velcro closure is cute, secure, and easy on and off, while the foot bed is cushy and supportive. These should be the standard in kids shoes! Love em!

Reviewed by tammylee61 from Charlotte, North Carolina on Monday, December 2, 2013

I didn't realize it but these are not normal shoestrings for a woman. But what can one expect after all they were grade school kids shoes? Anyways

they are a great buy and I can find someone who can wear them and enjoy them more than me. This is not a bad review that I am giving just a review

to explain that as an older lady I really need shoelaces. But they are just too cute not to have tried. So if you have a young lady she might appreciate them

a whole lot. Just remember ladies if you wear a size 7 you can wear a grade school kids shoe size 5 1/2 or size 6.

Reviewed by CW the runner from Atlanta on Wednesday, November 20, 2013

My daughter loves everything about the shoes ( especially the color) and I love not hearing her whine about having to tie them since these are velcro. She wears them almost every day. Factoring in the great price made these a no brainer. We will probably order the next larger size and put them up for next year.

Reviewed by Jensen Wong from Hong Kong on Wednesday, October 9, 2013

Viery light weight shoes and my 9 years old son says it is very comfortable

Reviewed by just a girl from waterford, ny on Thursday, September 12, 2013

nice support easy on and off

Reviewed by ShaniNJ from north Jersey on Thursday, September 12, 2013

My 8-year-old son has only won these for 4 days, but he says they're comfortable, plus they seem well-made compared to the junk that passes for kids' sneakers these days. Also, the closure, which is a velcro strip less than 2 inches long, actually seems substantial, and the elastic 'z'-strap seems like it might hold up, too. Time will tell.

A great bargain price, too!

Reviewed by Krn from Maryland on Tuesday, September 10, 2013

These shoes are AWESOME. Very light weight, cool-looking, and comfortable. We bought the Wide fit, and though my son has normal width feet, they fit perfectly. Glad I read some of the other reviews that said they ran narrow, because I gave the Wides a try. I'd say length-wise they seem true to size. He's only worn them a couple of weeks, but so far, they don't show any wear and tear. Bonus: my son got them sopping wet and by the next day they were almost completely dry -- must be the meshy fabric. We LOVE these shoes and would definitely get them again!

Reviewed by Bargain Mom from California on Monday, August 26, 2013

My son didn't care for the Velcro, so my daughter took these shoes for herself. She has only worn them for two weeks, but hasn't complained about the fit or comfort even once. They stay on (despite being a bit too large), and are still in great condition (she tends to be very hard on shoes, using toes as brakes on her bike and scooter and such). Can't really beat New Balance quality at this price!

Reviewed by Mommy camper from Arizona on Monday, August 19, 2013

Super cute and comfortable. My daughter has wide feet and so we have trouble finding shoes to fit as we haven't found many wide shies fir youth sizes. They came right away and my daughter loves them.

Reviewed by T and kid from Arizona on Saturday, August 17, 2013

My daughter loves these shoes. They fit perfectly.