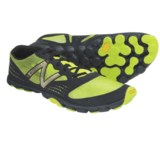 Closeouts. Designed to be worn without socks, New Balance's MT00 Minimus trail running shoes feature a lightweight, minimal design with the protective grip of a Vibram® outsole for rough, uneven terrain.
Average Rating based on
15
reviews
4.333333
0
5
Verified Buyer

Reviewed by Rick Caird from Florida on Saturday, June 21, 2014

I have been wearing size 7 New Balance shoes for years, but I took the advice of ordering 1/2 size larger. I felt like they were big floppy clown shoes.

The very good news is that was a very easy process to return them and get the size 7 shoes. I have been wearing them to the gym and they work well on the treadmill and the weight machines.

Verified Buyer

Reviewed by Evan from Ann Arbor, MI on Wednesday, May 21, 2014

I personally found these to be "true to size" when worn without socks. I'm a little on the small end of a size 13, and found these 13s to be just a little big when worn without socks. As others have said, the outsole is extremely light and has gaps where you can see straight through to the insole. The upper is incredibly light, and takes getting used to. It is quite literally see-through for much of the shoe, and while the plastic feels odd against your skin at first, it is very breatheable and so flexible it starts to feel like a slipper after a while. Critical areas have a thicker nylon material for reinforcement (the black parts of the upper) but there is no leather, rubber, or webbing reinforcement in the upper at all. I am returning my pair, though, as my use will be for hiking and I like my hiking shoes to last for a few years, and I wouldn't expect these to. For trail running, where you are probably getting new shoes every season, these would be pretty nice.

Reviewed by swamsister from Great Green Swamp, Florida on Thursday, February 27, 2014

Got these for my son, had to send the first pair back due to sizing issues was 1/2 to 1 full size larger than expected. He usually wears a 14 in NB but a 13 was perfect. Thanks to STP the exchange was quick and absolutely painless. He finds the shoes comfortable, doesn't think he will run in them much since they are so light and he has to run in the military in boots - doesn't want to get too used to lack of weight. Nice to have a pair of shoes made for no socks - decreases time guys have to get socks out of the mound of laundry. And as always can't beat STP prices, add to that a barn burner and they are practically giving these things away.

Reviewed by RJ from Texas on Tuesday, February 25, 2014

these are comfortable and sturdy and can be worn with or without socks. The best part is how lightweight they are. The only negative thing I would say is that you shouldn't run over any sharp rocks or sticks as the sole has spaces between the rubber that could easily be pierced.

Reviewed by vivian from west virginia on Tuesday, February 25, 2014

Found these to be very comfortable, use primarily for gym workouts and for cycling. Heel and ankle fit more like a climbing shoe, roomy in the toes.

Reviewed by CZinHP from High Point, NC on Sunday, February 23, 2014

I ordered this along with 3 other pairs of similar shoes and opted to keep this pair. These actually ran a bit large and my guess is that I'll be wearing sox (which I prefer, btw). These felt the most stable and true to the contours of my feet. There is enough substance to the soles to protect and provide a stable platform, but not to much so that you lose contact with the ground. Width was outstanding. I've only had these for a week and I've logged about 12 mile on the treadmill only (snowing again). If I have one concern, its about durability. They are so light and flexible, that I'm not sure how they will last. I won a pair of Vivobarefoot trail shoes that are much more substantial and I still plan on wearing those for serious off-roading, but I think these MT100s will become my preferred light trail shoes.

Reviewed by Big and fast from Aspen colorado on Monday, September 9, 2013

I am over two hundred pounds and run really well in thee shoes.

Reviewed by The Gnomon from Indiana on Monday, September 9, 2013

I purchased these shoes as a lightweight alternative to using heaver Chaco Sandals (for end of day foot rest) on a backpacking trip. The boots I wore have been a nightmare to break in and completed stripped the skin off my feet. I retired the boots and put the MT00 Minimus shoes as an emergency "finish the hike" procedure. I was able to finish the hike relatively quickly with a 60 lbs pack on my back. They are indeed lightweight and comfortable. I was amazed at their performance.

Reviewed by NorCal hiker from California on Monday, August 26, 2013

They are extremely light, traction is excellent, and the uppers are very breathable. What's not to like? The toe box is a bit too narrow - I prefer any of the Merrell offerings (such as Trail Glove) for their wider toe boxes. I prefer the fit and the slightly more substantial feel of the New Balance MT10 and MT20. Still, these are worth a try for the sale/closeout price. They are the lightest shoes I've ever worn.

Reviewed by Tim from Michigan on Monday, July 15, 2013

Lightweight well made minimalist shoe. Flywire type of nylon fabric.