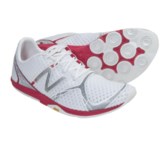 Closeouts. New Balance's award-winning WR00 Minimus running shoes feature a featherweight design that can be worn with or without socks for the ultimate in minimal, close-to-the-earth running.
Average Rating based on
31
reviews
4.225806
0
5
Verified Buyer

Reviewed by sinclair from san francisco on Thursday, April 10, 2014

sole feels very sturdy for its width.

I'm replacing my nike free with these and I find that they have a harder rubber on the bottom so the impact of hard landing is greater.

I like the contour of the shoe- like it was sewn onto my foot. Very comfortable.

Reviewed by Liz from Virginia on Tuesday, April 1, 2014

I bought these shoes to wear to the gym when I work with kettlebells and walk on the treadmill. They fit really nice and have a neat "grippy" sole. They

have more support than other minimalist shoes I have had in the past. Lots of room in the toe area as well. I would recommend them for the gym and

cross training work.

Reviewed by North Shore Mom from Boston on Saturday, March 22, 2014

I have been running for over 30 years. Recently switched to minimalist style shoes. I am a frequent short mileage runner (3-4 miles 5 days/week). I've had several pairs of these particular shoes. They are absolutely awesome. The only caveat is that, as I live in the northeast region, they are not great for winter/spring conditions. I can strap yak trax on for ice, but when it's wet and muddy your feet are right into the muck. Wool socks are a must. I keep one pair specifically for those conditions so that I don't have to worry about how they look or smell (wet dog). But love running in these.

Reviewed by Daisy of the Spring from New York, New York on Tuesday, March 4, 2014

Excellent support and my toes feels wonderful in 'em. I walk all day in those ultra light weight sneakers and they're fabulous. I live in NYC! The best walking shoes! The teal color is lovely. I would love a pair of all white (pure white) sneakers to look nice enough to wear to some fine restaurant.

Reviewed by Diana from Orlando, Florida on Thursday, January 30, 2014

I just got this beauties for Christmas. Not only they are super cute but they are awesome for running! Light as a feather which is great! I have knee problems and this are the only shoes I can wear for running because they are super light weight ! I looked for this shoes on the New Balance website and amazon and this was the best price I found!

Reviewed by Celeste from Florida on Thursday, January 9, 2014

These shoes are not only super cute, but also very light and comfy. I know some people have some soreness transitioning to a zero drop shoe, but I have been running in a 4mm drop for the better part of the last 2 years and switching to a few days a week has been no problemo. I sparkly heart them and recommend them often. I have also been recommending derailed.com, as I was completely thrilled with my purchase price and shipping time. Thanks a lot! I will be back again!

Reviewed by Luke the gifter from Baltimore on Monday, December 23, 2013

I bought the WR00 Minimus Running Shoes for my fiance as a Christmas gift and she absolutely loves them. They are very light weight and slip easily onto her feet. Good support for a minimus shoe and very comfortable according to her. Excellent product.

Reviewed by Kayaker from TN on Saturday, September 28, 2013

I have ordered many New Balance shoes from Sierra and I love them all. After getting planter fasciitis from Nike sneakers because they seem too tight New Balance was like a breath of fresh air. This shoe was the worst shoe I ever ordered. When put against the bottom of my other shoes they were at least an inch to an inch and a half smaller. They were very uncomfortable when I tried them on. Sent them back right away. Do not think they are sized right but still the cushioning is not there.

Reviewed by CarolinaGirl from chapel hill nc on Tuesday, September 17, 2013

love these shoes - great quality - excellent look - light and easy - feels like i am wearing socks

Reviewed by NinaP from Columbus, OH on Monday, September 16, 2013

These shoes are fantastic. I wear them with socks and without socks. The toe box is nice and wide, and the fit is right on. Love.