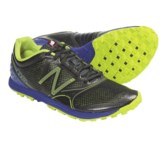 Closeouts. Winner of the Editor's Choice award from "Trail Runner" magazine, New Balance's MT110 trail running shoes give you the most responsive ride out of your trail running excursions.
Average Rating based on
8
reviews
4.375000
0
5
Verified Buyer

Reviewed by Shelly Runs the Trails from Ithaca, NY on Thursday, August 14, 2014

Light-weight, durable (don't be put off by the plastic top), they allow your feet to really feel the trail as you run. They're low to the ground, which means no twisted ankles. And the sole grips well on steep downhill slopes. This is my 3rd pair. My first two are a half size smaller; this pair will be for winter (heavier socks). And they come in wide width!

Reviewed by Short Wide Feet from California on Monday, October 7, 2013

New Balance is a good brand for wide feet because they come in D or W. They always advise ordering up 1/2 size, but these almost feel as if they should be ordered a full size up. I kept them anyway, and they are surprisingly comfortable. I chose them because of their flexibility, flatness and wide toe box (which could be even wider). The color is hideous, but they feel good.

Reviewed by Amy from Maine on Wednesday, August 21, 2013

I normally wear either a size 7.5 or size 8, depending on the shoe. I ordered a size 8.5, based on other reviews. There is a little bit of room at the toe, but I think this is a good thing for trail runners, so that my toes don't get crushed going downhill.
These are very comfortable. I've never worn New Balance running shoes. I wear Nike Free for road running. They had a good grip on the soles, but can still be described as minimalist.
I like the material of the upper part of the shoe. It is not fabric, so easily washable when they get muddy.
The color-combo is a bit ugly, in my opinion, but I really don't care because of the price. I may change the laces to purple to match the bottom outside of the shoe, and make them a bit prettier!
In sum, these trail runners are comfortable and effective. Order at least a half size up.

Reviewed by Mostly satisfied from Colorado on Tuesday, July 23, 2013

These are very comfortable on both the trails and the city streets. They feel light as air and very springy even with the minimal amount of padding. They do run small though - I ordered mine a half size up and they fit great.

Reviewed by wheaten from AZ on Thursday, May 30, 2013

I love these shoes. Very comfortable. I do have one complaint. I am a size 8 and in New Balance line of minimalist shoes, this is my second minimalist shoe, I have to order a size 9. New Balance either needs to make people aware of this fact or change the sizing to reflect a street shoe size. Otherwise, people will be buying and returning shoes.

Reviewed by ErikaTheFitnessTrainer from Sydney, Australia on Wednesday, May 8, 2013

Excellent New Balance shoe. The Women's NB 110 is great! I run 20km+ a week and these shoes are perfect for those long runs in the outdoors!


Reviewed by Early morning walker from Seattle, WA on Friday, January 18, 2013

Maybe my foot is weirder than I thought, but wish Sierra would show the SOLE shape of any footwear. I have no foot aches but do have trouble with fit, feet tend to point out, are wide and fat. Take that into consideration if you read this. Seemed a bit short for the size. This really straight shoe caused instant twist and ache in my arch. But I can tell it would give great traction and support, nice heel fit. Sad to have to send them back.

Verified Buyer

Reviewed by UrbMtnGirl from Longmont, CO on Monday, December 24, 2012

These minimalist shoes are great for trail running on semi-rugged trails with some rocks and stumps as long as you don't mind feeling a bit of the trail. If you like really cushy running shoes, they are not for you. I have another pair of New Balance minimalist shoes with Vibram soles that I also really like, but those have less protection on the forefoot so ideally they would make trail runners with Vibram soles AND a forefoot plate to protect against sharp rocks on trails. Both pairs are super light. The sizing for this shoe is the same as for my other pair -- in normal walking shoes I wear size 7 and I wear size 8 in most running shoes including these New Balance trail runners.