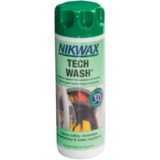 Closeouts. Use Nikwax' wash-in waterproofing Tech wash on your trusty waterproof gear and apparel to revitalize their breathability and increase water repellency. Just add to the wash, and you're set for another full season of performance!
Average Rating based on
94
reviews
4.659574
0
5
Verified Buyer

Reviewed by PNW Lover from Washington on Monday, February 9, 2015

I had a fleece jacket, an older waterproof jacket & a newer down alternative coat that had been washed with regular detergent. As I was considering sending to Goodwill, I decided to see if washing them with Tech Wash would make a difference. AMAZING...the fleece no longer looks worn out, the down jacket looks like new & breathes again - but most visible was the older jacket. It looks like new, is at least double in volume since washing and once again is a favorite coat.
Instead of consigning to Goodwill, I'm wearing and loving these.

Verified Buyer

Reviewed by Lab owner from Alaska on Friday, February 6, 2015

Excellent product. If you want rain to bead off your clothes this is a must product! Easy to use. I've used several times and works with no problems.

Verified Buyer

Reviewed by rusty from naperville, il on Tuesday, January 20, 2015

simple, fast - like getting a new jacket

Reviewed by 2UfromMI from Michigan on Monday, January 5, 2015

The headline for this product is very misleading as it states "Wash-In Waterproofing". It only cleans garments prior to using a separate waterproofing soak-in solution before the final rinse. It does treat garments that were originally waterproofed very gently and does maintain their breathability without totally stripping the waterproofing. On the other hand it does not remove dirt and stains quite as well as a stronger detergent, so do not wait until the garment is very dirty to launder it or you will be disappointed and may be faced with adding the additional waterproofing wax based soaking agent which will then basically seal in the remaining dirt and stains that would not come out. This a good choice to use on lightly soiled items in between a re-waterproofing cycle, but it is NOT a water-proofer by itself. It is also a good choice to use on items that are not coated with a waterproofing agent but have a permanent barrier sewn into the garment instead.

Verified Buyer

Reviewed by racersailor from Rhode Island on Monday, November 24, 2014

I wash my sailing/skiing/technical outerwear with this before I use Nikwax waterproofing products. Very happy with this over some years now.

Verified Buyer

Reviewed by KCinCO from Ft. Collins CO on Sunday, October 5, 2014

Revitalized my Gore-tex parka that I've had for 15 years. It's like new!

Verified Buyer

Reviewed by Echothesis from Spokane, Washington on Thursday, September 25, 2014

Great value and does work

Verified Buyer

Reviewed by WinterColdFeet from Bronx NY on Sunday, September 7, 2014

as advertised, would buy again

Verified Buyer

Reviewed by shelleymk from bellingham on Saturday, September 6, 2014

just what i needed to waterproof (or refresh water proof jackets) for fall! and great price. thanks!

Verified Buyer

Reviewed by RIDGERUNNER from Knoxville, TN on Friday, August 29, 2014

Excellent for washing your expensive outdoor gear and clothing.