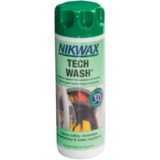 Closeouts. Use Nikwax' wash-in waterproofing Tech wash on your trusty waterproof gear and apparel to revitalize their breathability and increase water repellency. Just add to the wash, and you're set for another full season of performance!
Average Rating based on
94
reviews
4.659574
0
5
Reviewed by Skimom from NC Mountains on Monday, March 14, 2016

Every spring I wash all of our ski gear which includes 5 pair of ski pants and about 10 jackets plus gloves that have been worn for 25-30 ski days. I don't use as much product as the instructions suggest and it still works well. I did have chair lift oily drippings stain a light blue jacket and then I had to wash the jacket immediately. I rubbed the Nikwax Tech directly into the stains and washed as directed. Success! I use 3-4 bottles a year.

Verified Buyer

Reviewed by P. R. from Sierra on Monday, February 29, 2016

Good cleaner for technical fabrics. Been using for several years and have been pleased with performance

Verified Buyer

Reviewed by Naomi from Montana on Saturday, February 27, 2016

Good price on a trusted product

Verified Buyer

Reviewed by Steamboat Bill from Decatur, GA on Wednesday, February 24, 2016

Use this once a year on all my Gore-Tex outerwear. Some ground in dirt requires pre-treating or a second wash. Keeps my bicycling jackets clean and waterproof

Verified Buyer

Reviewed by Urban woodsman from Seattle on Wednesday, February 17, 2016

Nikwak is the premier product for tech washing. Always gets my gear clean and has never taken away water repellency. Love this stuff.

Verified Buyer

Reviewed by S from Virginia on Thursday, February 11, 2016

Used on Spyder ski pants and a Marmot goretex shell in a top loading washer. Followed up with Nikwax Wash-In TX Direct Waterproofing. So far so good.
N.B. No visible dirt on either piece of clothing so I can't attest to the product's ability to clean stains or dirt.

Verified Buyer

Reviewed by sandraelaine from Upstate NY on Friday, December 4, 2015

Got this last year for a Christmas Present. I have several jackets that are Gortex or Gortex type material. This is a great product for re-vitalizing your waterproofing while cleaning your article of clothing. I just ordered two more to have on hand.

Verified Buyer

Reviewed by Anonymous from Houston, TX on Thursday, November 19, 2015

My daughter is an avid outdoors woman and she highly recommended this product. She used it on her garments and other waterproof items. She is particular!

Verified Buyer

Reviewed by Goodhope from Florida on Tuesday, August 25, 2015

Easy to use and does what it should!

Verified Buyer

Reviewed by Loris Labradors from Montana on Thursday, July 30, 2015

I have used this product before to water proof my ski clothing. It is easy to use and works well

Verified Buyer

Reviewed by robthetreeman from Greeneville TN on Friday, May 22, 2015

2nd purchase,I wash all of my wool tops, soft shell jacket and pants.Got it with the discount and free shipping coupon which is great for these low price orders.

Verified Buyer

Reviewed by C the skier from Colorado on Wednesday, May 13, 2015

Best product to wash all your outdoor clothing...clean and waterproof at the same time!

Verified Buyer

Reviewed by Sk888888 from Philadelphia on Wednesday, May 6, 2015

Haven't used the wash yet; have used the refresher on waterproof (and not-so-waterproof) items before and it's worked well. I see no reason why this wouldn't perform up to the standards I have set for Nikwax products!

Verified Buyer

Reviewed by Idaho outdoor lover from Idaho on Friday, April 3, 2015

Best product for washing winter ski gear before packing away til next year and was on incredible sale.

Verified Buyer

Reviewed by iron from Wisconsin on Wednesday, February 25, 2015

I washed a Patagonia wading jacket with this stuff. Add less than indicated on the bottle as it foams a bit. Very good results after washing, no scent.

Verified Buyer

Reviewed by Tom from New Jersey on Wednesday, February 25, 2015

Works great used it on an old leaky rain jacket, water rolls right off it now.

Verified Buyer

Reviewed by P. R. from Sierra on Sunday, February 22, 2015

Highly recommend, great for caring for your quality gear.

Verified Buyer

Reviewed by Big Head from Michigan on Monday, February 16, 2015

I've used Nikwax product for years to maintain my various pieces of waterproof gear. However the description is misleading as it is not waterproofing but a detergent friendly to waterproof breathable fabrics. A separate Nikwax Wash in Waterproofing product is needed for waterproofing. When I complained to Sierra Trading Post I was eventually told that I should have read the fine print on the label in the picture provided, and that "quality control team" didn't see a need to change the website because they hadn't seen enough complaints.

Verified Buyer

Reviewed by jwhiton from Chicago,IL on Saturday, February 14, 2015

Try to use tech wash once a year on all my waterproof gear. works great.

Verified Buyer

Reviewed by fish from Wilmington, NC on Friday, February 13, 2015

We have been using this product for years so when we found it at STP with a nicely discounted price we purchased it. Works well on water proof materials like gore-tex. Just follow the instructions. Buy with confidence.
Catch and release,
fish

Verified Buyer

Reviewed by PNW Lover from Washington on Monday, February 9, 2015

I had a fleece jacket, an older waterproof jacket & a newer down alternative coat that had been washed with regular detergent. As I was considering sending to Goodwill, I decided to see if washing them with Tech Wash would make a difference. AMAZING...the fleece no longer looks worn out, the down jacket looks like new & breathes again - but most visible was the older jacket. It looks like new, is at least double in volume since washing and once again is a favorite coat.
Instead of consigning to Goodwill, I'm wearing and loving these.

Verified Buyer

Reviewed by Tim fishing in Alaska from Alaska on Friday, February 6, 2015

Excellent product. If you want rain to bead off your clothes this is a must product! Easy to use. I've used several times and works with no problems.

Verified Buyer

Reviewed by rusty from naperville, il on Tuesday, January 20, 2015

simple, fast - like getting a new jacket

Reviewed by 2UfromMI from Michigan on Monday, January 5, 2015

The headline for this product is very misleading as it states "Wash-In Waterproofing". It only cleans garments prior to using a separate waterproofing soak-in solution before the final rinse. It does treat garments that were originally waterproofed very gently and does maintain their breathability without totally stripping the waterproofing. On the other hand it does not remove dirt and stains quite as well as a stronger detergent, so do not wait until the garment is very dirty to launder it or you will be disappointed and may be faced with adding the additional waterproofing wax based soaking agent which will then basically seal in the remaining dirt and stains that would not come out. This a good choice to use on lightly soiled items in between a re-waterproofing cycle, but it is NOT a water-proofer by itself. It is also a good choice to use on items that are not coated with a waterproofing agent but have a permanent barrier sewn into the garment instead.

Verified Buyer

Reviewed by racersailor from Rhode Island on Monday, November 24, 2014

I wash my sailing/skiing/technical outerwear with this before I use Nikwax waterproofing products. Very happy with this over some years now.

Verified Buyer

Reviewed by KCinCO from Ft. Collins CO on Sunday, October 5, 2014

Revitalized my Gore-tex parka that I've had for 15 years. It's like new!

Verified Buyer

Reviewed by Echothesis from Spokane, Washington on Thursday, September 25, 2014

Great value and does work

Verified Buyer

Reviewed by WinterColdFeet from Bronx NY on Sunday, September 7, 2014

as advertised, would buy again

Verified Buyer

Reviewed by shelley from bellingham on Saturday, September 6, 2014

just what i needed to waterproof (or refresh water proof jackets) for fall! and great price. thanks!

Verified Buyer

Reviewed by RIDGERUNNER from Knoxville, TN on Friday, August 29, 2014

Excellent for washing your expensive outdoor gear and clothing.