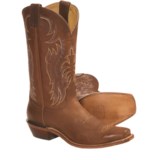 Closeouts. Nocona Crazy Horse leather cowboy boots offer all the quality and style you expect from cowboy boots handcrafted in the USA by Nocona's skilled artisans.
Average Rating based on
17
reviews
4.411764
0
5
Verified Buyer

Reviewed by Lisa from CT on Tuesday, March 24, 2015

Just as other reviews had implied, my husband couldn't get his foot into the boot and he has slender feet and ankles. Really too bad, the boots are beautiful!

Verified Buyer

Reviewed by Redding Boot Nut from Redding, CA on Tuesday, July 8, 2014

These are outstanding boots providing one can manage to get their foot inside the boot!! Although the Sierra provided description for achieving a proper fit indicates choosing 1/2 size smaller (which is likely from Nocona, as I saw the same suggestion seen on their web site), myself and some other buyers have found the opposite to be true. I normally wear an 8 1/2 D sized boot and depending on the toe shape of the boot, sometimes an 8 D.

To make a long story short, I started out trying an 8 D, which I wasn't even close to being able to get on with my particular foot shape. I next tried and 8 1/2 D, and managed to get them on with a thin sock after some struggling; however, once they were on, the fit was outstanding and very comfortable to walk around with! Several months later, I liked the boots so much, I ordered a second pair in 8 1/2 D, but had to exchange them for a 9 D size to enable getting them on my foot. It finally dawned on me that, the real problem is the shape of my particular foot (very high instep with D width), which results in too much blockage when I try to get my foot crammed thru the boot shaft, where-upon, the heel of my foot contacts the rear of the shaft while the top of my high arch contacts the front portion of the lower boot shaft, and simultaneously, the ball of my foot has contacted the inner sole of the boot; i.e., the geometry of this particular boot style/shape just doesn't supply enough available area to accommodate a very high instep plus a D width! If one has a relatively narrow foot, this will likely not occur as the area required to get one's foot thru the lower boot shaft region will decrease with a narrower foot shape.

Bottom Line, for people having a D foot Width AND a HIGH Arch, an Increase in the boot size from 1/2 to a full size may be required to enable getting the boot on ones foot!! Once the boots are on the foot, they are very comfortable to wear, which is why I purchased an extra pair.


Verified Buyer

Reviewed by Redding Boot Nut from California on Tuesday, June 3, 2014

Ordered a set of these boots several months ago and wearing themso much dthat that I ordered a second backup pair; however, the second pair ihas been returned/replaced because the leather was too dry/stiff to alllow me t o get my high instep foot into the left boot.

Reviewed by Carson from Ohio on Tuesday, April 1, 2014

I was looking for a lighter colored boot and found it in the Crazy Horse. The high quality of these boots is what you would expect from Nocona. They are very comfortable from the time you first put them on and fit is true to size.

Reviewed by doghunterr from Lynn, Massachusetts on Monday, February 24, 2014

Leather. Handcrafted in USA. Feel great. Look super. Love the boots.
I bought these a half size larger than I wear my shoes, and they fit right.

Reviewed by Imasailor from Colorado on Saturday, February 15, 2014

Excellent Nocona quality. Very comfortable and fit me true to size. Highly recommended, especially at STP prices!

Reviewed by Bigger in Texas from Texas on Friday, January 24, 2014

Excellent fit and comfortable out of the box.
Keep bringing great deals like this one STP.

Reviewed by Old Appy Lady from Alabama on Friday, December 27, 2013

When my husband wanted a pair of dressy cowboy boots for Christmas, he picked out these. It was a wonderful extra that they were made right here in the USA. We followed the notes that they ran big, and ordered a 1/2 size smaller. When they got here, the first boot he tried on fit great, but he couldn't get the other on. Thanks to STP's great exchange program, we got the replacement in his size in time for Christmas. One of my wishes for Christmas was a pair of dressier cowboy boots for when we went out in jeans. My husband was a little behind me in his shopping. Eventually, we decided that I would get matching boots. At 69 and 71, we do what we want, and don't worry what others think. I have very large fat feet for a woman. Going by his experience, we ordered my regular size when I buy a man's shoe. (I do buy women's shoes for dressing up, but buy men's sneakers and boots, since they are wider, but look similar to women's.) Unfortunately, when they got here still before Christmas, I could barely get into them and they were tight. I once again used STP's great exchange program. Unfortunately, we had waited too long, and they are scheduled to arrive Monday, before New Years. I am anxiously awaiting them. The kicker, they are the size we first bought for my husband and returned, I should have tried them on before returning them. Obviously they are great boots, well made, and beautiful leather and made right here in America.

Reviewed by RonBeau from Downeast NC on Monday, November 4, 2013

All of my boots except two pairs are Nocona. The oldest and still my favorite are Black and Tan Bullhide that are 20+ years old. They still look like new. The design and fit of Nocona boots are legendary. People always compliment me about how good my boots look. Whether in church, wearing a tux @ a wedding or party, or just layin back in my threadbare jeans coffing a brew, you will find me in Noconas.

Reviewed by Gjh Boston from Boston on Tuesday, September 3, 2013

Ordered these boots for my husband based on other reviews. He has narrow feet so the earlier review of a narrow cut was spot on and very helpful. The color and craftsmanship are beautiful. He said that they were comfortable from the moment that he put them on. The price from STP was too good to pass up. Living in the Boston area, he may not wear them all that frequently. However, when he does he will be looking really sharp and they are a fun boot.