Oggi 7" Corkscrew with Base
Item #6563H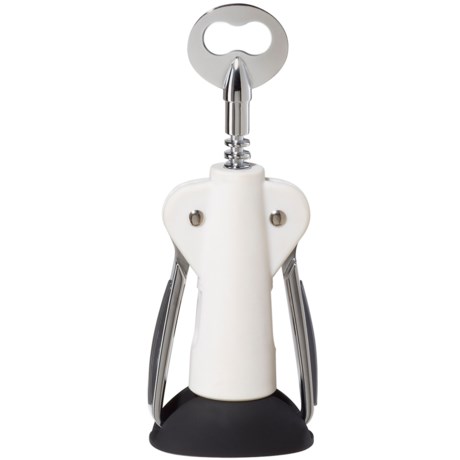 Overview
About OGGI 7" Corkscrew with Base
Closeouts. OGGI is known for its ergonomic kitchen gadgets, and this 7" corkscrew doesn't disappoint with its grippy wing handles and easy-to-hold corkscrew housing.
Base for optional countertop placement
Height: 7
Width: 2-1/2"
Diameter: 1-5/8"
Dimensions including stand: 7-1/2x3x2"
Weight: 0.7 oz.
Material: Stainless steel, composite
Care: Hand wash
Made in China
Specs
Specs about OGGI 7" Corkscrew with Base
Reviews
About Oggi
Oggi has spent more than 30 years in the business of designing and producing products to make everyday life easier, including high-quality stainless steel vacuum bottles, sport bottles, insulated thermal carafes, ceramic canisters, melamine storage containers and serveware. When it comes to keeping beverages at ideal temperature and securely storing food, Oggi bottles, travel mugs, canisters and containers are crafted to look fantastic and hold up to your busy lifestyle. If you need to store it or take it to go, Oggi will make sure your drinks and foods stay secure and tasting great.