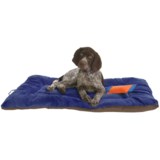 Overstock fabric. Your four-legged friend will love snuggling into this large, plush OllyDog dog bed. It may even be enough to lure him away from that particular spot on the couch you always seem to be competing for.
Average Rating based on
191
reviews
3.565445
0
5
Verified Buyer

Reviewed by Suzanne from Texas on Tuesday, November 24, 2015

I returned this not because I didn't like the bed, but it was too little.

Verified Buyer

Reviewed by Florida shopper from Florida on Saturday, October 31, 2015

This dog bed is very soft and delicate. My dog loved it. He ate it within a day. Fabric is too thin and soft to make a bed for most dogs that like to chew. It would be fine for a little dog that is super low energy and has no chewing habits.

perhaps if I cover it with some heavy duty fabric, it will be functional. for now, while inexpensive, it is worth nothing to me.

Verified Buyer

Reviewed by JakesMom from Delaware on Thursday, October 22, 2015

While the price was right and the expectations set for beds (bought 2) that would only be supplemental so our boy would have some comfort in one of our offices and in our shop (we have large, cushy, main beds for him in the BR and another office, these were a good bit smaller than 36". Try 32". Our guy is not a medium, sized, 43lbs. pup, but he is long, so stretched out, he is hitting some floor. I'm ok that they aren't thick and plush for the price, but it should measure up to the size description.

Verified Buyer

Reviewed by old fatihful from California on Saturday, October 10, 2015

this beds fits in a medium and a large kennel perfect. My dogs love it.

Verified Buyer

Reviewed by GreyJoy from Boca Raton on Wednesday, October 7, 2015

perfect size for my hounds... I actually ordered 2 one for each . the perfect travel map... super soft

Reviewed by jbrianb from Tennessee on Friday, August 28, 2015

My dog is a mixed breed and weighs about 35 lbs. She's built a lot like a standard schnauzer (my last dog), which is to say, she's "average" in most ways. Not long, not short. Not tall, not squatty. Not thick, not thin. Very proportioned. This pad feels a little thin to me (and to her) and it's none too big. A large Labrador would find the large far too small. And too thin. I consider it a good purchase at the sale price and it makes a fine travel bed for her or a second bed when she wants to be where we are, in the living room, for instance, but for night time, I'm getting her something else with more substance.

It is plush with a nice fabric and a soft feel. It is washable. For $15, I'd buy it again, but for full price? No way. Line a crate, use it as a travel bed. Put one in the living room to keep your pet off the hard floor. But don't expect it to be a good, daily bed for your dog. I view it like a dog hammock or a dog sofa. Fine for a nap, but not as good as a real bed.

Verified Buyer

Reviewed by Orcas Gracie from Washington on Monday, March 30, 2015

Hardly any stuffing in this bed. My dog is bony and needs more loft!

Verified Buyer

Reviewed by Stella from Boston on Wednesday, March 11, 2015

Decent bed. I already had 4 that I purchased 4-5 years ago. They aren't thick, but I don't use them as dog beds, but as crate pads. They wash and dry nicely. I got 4 the same color (pistachio and brown) but two were one fabric and the other 2 a different fabric. Oh well. The price was right.

Verified Buyer

Reviewed by Nette from Ohio on Tuesday, December 16, 2014

I bought this dog bed mainly because the price was a steal. I did not expect much out of the bed. When it arrived and I saw and felt the bed I was very pleased. The quality is excellent with hidden seams. The stuffing is soft and so far has kept its shape. My dogs love this bed.

Verified Buyer

Reviewed by Kat from Delaware on Thursday, October 30, 2014

We bought this to put on our leather sofa to collect fur and protect against claw marks. The OllyDog large bed is perfect for our 25 lb terrier mix and wherever the bed is, there is the dog, very happy.