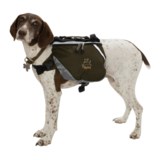 Overstock fabric. Load'em up and move'em out in OllyDog's medium dog pack! Padded, ventilated back panel and adjustable neck and chest straps keep your canine comfortable.
Average Rating based on
219
reviews
4.264840
0
5
Reviewed by LG in NV from Nevada on Thursday, March 12, 2015

My pup is a lab-sheppard mix (11 mos, thin, and about 55 lbs) and the medium fits her well with some room to grow. It does tend to slip a bit to one side, in spite of even weight and adjusted straps... but it doesn't seem to bother or chafe her any. The pockets are large, and while we limit it to one, you could easily fit 2-16.9 fl oz water bottles in each side pocket. We find the loop on the back is a nice feature for us too.

Verified Buyer

Reviewed by Walter from Pennsylvania on Wednesday, January 28, 2015

My pup is a Australian Shepard/Blue tick heeler mix at about 50 pounds. This fit him perfectly. Very well made, padded for areas that are in contact with his skin. Very nice!

Verified Buyer

Reviewed by Andy from Vancouver from North Vancouver on Saturday, January 10, 2015

Fits my 60lb lab nicely

Verified Buyer

Reviewed by c-c-c-cold from Sonoran desert on Saturday, December 27, 2014

first dog pack was mountain hardware and dog came back without it. This one has stayed on. Bags are just right size...not too big or too small
Dog seemed fine for it.

Verified Buyer

Reviewed by Caroline from Boulder, co on Wednesday, December 17, 2014

The medium fits my 47 pound dog great although she could have gotten away with a small as well. We've used it a few times so far in preparation for backpacking this summer. For the price she seems to be really comfortable and Ive had no issues getting her to wear it.m

Verified Buyer

Reviewed by leeza from NH on Saturday, November 22, 2014

If you own a dog, you will discover that they enjoy doing chores. I purchased this well-made OllyDog Back Pack for my dog and she is very happy with the fit, comfort and durability of this pack.

She is eager to pack garden tools and follow me around the yard, carry fruits from the gardens and even helps indoors with hauling the unclean laundry into the utility room.

Sierra Trading Post has never disappointed me in the quality of varied product they amass throughout the world. They are again spot on with the Olly Dog pack.

If you own a dog, and he/she is the type who enjoys collabotating on tasks--then you really need to buy this back pack. It will last for years--yes, it has the strength to withstand a lot of physical exertion. Remember, to measure your dog or dogs properly for a super comfort fit. Your dog will thank you, by his/her performance.

Verified Buyer

Reviewed by Carol from North Georgia on Monday, November 3, 2014

I love this product. As soon as I took it out of the box, I put it on my medium size, 60 pound dog. Fit was great. Not once did she try to pull it off! Stays secure. Although the picture makes the pack look bigger than it is, it still is a good size and will hold everything my dog needs for a few days out hiking and camping. Well made product.

Verified Buyer

Reviewed by Lissa and Alice from PA on Monday, August 25, 2014

The Olly Dog backpacks are amazing -- well-made, comfortable for our dog, adjustable, lightweight, great ventilation to keep our dog cool. We have a pit bull/American bulldog mix, who is only a year old. She has a lot of energy and needs more than simply a nice long walk each day. She needed a job, something to focus on. This backpack is the perfect answer. She loves it -- the issue is that when she sees it, she gets all wiggly and it's hard to get her to sit still. We connect the chest clasp first and then slip it over her head, then we only need to get the belly clasp. You can put ice packs in the pockets on a hot day (we put the ice packs in plastic bags, so they don't get the pack and dog wet). A dog can carry up to 10% their body weight, but work up slowly. Can't recommend it enough!

Verified Buyer

Reviewed by M&M from Upstate New York on Monday, August 25, 2014

We just rescued a 7 month old belgian shepherd. We figured a pack would be a good thing to get him used to and give him a job to do. He wasn't so sure a first.. But quickly adapted and while hiking got lots of comments from other hikers on how will behaved and impressed they were by him "working" . We only put a few items in it and my only complaint is that is easily slides if not equally weighted to perfection... So not sure how that will effect more weight? For this I give it only 4 stars. And the medium fits a 58 lb dog with room to grow. So many great dog products at Sierra.. We will keep buying from them for sure.

Verified Buyer

Reviewed by HikesWithDogs from Tucson, AZ on Friday, August 8, 2014

I feel like I got a great deal on this pack. It works like I hoped it would with plenty of room for treats and water on the trail. The only thing I didn't like about it (and it's a minor thing) is that it slides forward when you go downhill. Not even sure what could be done about that. I also wish the top was mesh to keep my dog a little cooler. he did fine with this though. The good thing about a pack for my dog was that he slowed down on the trail so we got a good hike but he wasn't wiped out near the end.