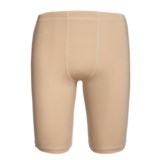 Closeouts. A multisport multitasker you should never be without, Orca's Noexss Compression 1/2 tights are made of NOEXSS 70 denier compression fabric to facilitate movement, combat muscle fatigue and wick moisture.
Average Rating based on
7
reviews
4.000000
0
5
Verified Buyer

Reviewed by A1 from Eastern Idaho on Monday, September 1, 2014

Real quality compression shorts for a fraction of retail. I just can't bring myself to give them five stars as the color of these shorts is definitely strange. They are skin color. That is the only thing wrong with them. They are top notch quality though and have gone through three or four washings up to date with no sign of fading. I can tell that they will last quote a while. I would recommend them highly if you can deal with the color. I am married with five kids and have no pride left (ha-ha) and have no problem with wearing them. In all honesty, the color isn't that bad.

Verified Buyer

Reviewed by TW from New Mexico on Sunday, May 25, 2014

Love these. Use for running and elliptical. Great for upper leg muscles and hamstring. Would definitely recommend. Not crazy about the color but they are an undergarment.

Verified Buyer

Reviewed by OEB2ODB from Norway on Wednesday, April 9, 2014

If you wear compression underneath shorts, these will be great. medium compression, but firm. Good length and non-chafing fit for me. But the color is truly horrendous. Like, you could never wear these alone. Lululemon yoga pants a little bit too. so buy a pair, put on underneath normal workout clothes, and off you go!

Reviewed by Blizo from Philadelphia on Thursday, March 6, 2014

Solid compression and light weight, cool weirdo color.

Reviewed by bill from sacramento, ca on Thursday, December 26, 2013

i am 5'9" tall weigh about 175 to 179 pounds.
i ran in these 5 miles.
i chafed left hip/groin area.
they are well made.


Reviewed by me from Brooklyn on Friday, November 22, 2013

About 10 years ago you could find real compression shorts. For some reason they're much rarer now. The ones you find in sports stores are basically just weak lycra shorts - bike shorts without the chamois. These, however, are the real mccoys: they're tight and you get real compression for the groin and upper-to-mid hamstrings.

Drawbacks are as follows:
I'd prefer them longer (though the length is adequate)
The legs creep up a bit (see above)
They're a tad high in the waist (but much lower than others, and they're easy to turn down, mitigating the issue)

Verified Buyer

Reviewed by thatStagehand from milwaukee, WI on Wednesday, February 13, 2013

For compression apparel, these are great! They fit really well and seem to be holding up well after a few washes. The deal was tremendous, and the only quarrel has to do with color options, or lack thereof.