Ortlieb Mudracer Saddle Bag - Waterproof, Medium
Item #7007M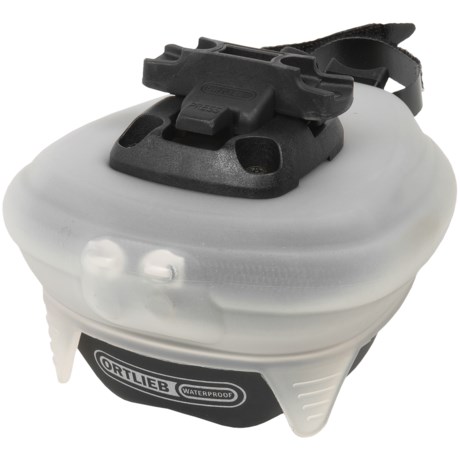 Overview
About Ortlieb Mudracer Saddle Bag - Waterproof, Medium
Closeouts. Ortlieb's Mudracer waterproof saddle bag features quiet, watertight construction, with a semi-rigid shell and a silicone top wrap that forms a tight seal.
Waterproof soft foam box absorbs road noise
Flexible silicone hood seals upper shell and covers zipper
Touch-fasten strap provides additional securing around seatpost
Includes all mounting hardware
Made in Germany
Specs
Specs about Ortlieb Mudracer Saddle Bag - Waterproof, Medium
Material: Foam, silicone and composite
Capacity: 61 cu.in.
Weight: 8 oz.
Dimensions: 3-1/2x4-1/2x5-3/4" (HxWxD)
Made in Germany
Reviews
About Ortlieb of Germany
Ortlieb of Germany has spent years perfecting their line of rugged bike bags, panniers, saddle bags, backpacks, messenger bags and dry sacks. When it comes to bike touring and commuting, Ortlieb saddle bags and panniers are available in a range of sizes and styles to accommodate any trip, from weekend ventures to cross-country treks. Ortlieb even offers a selection of completely waterproof panniers and bags built to withstand severe weather. Ortlieb bags, dry sacks and backpacks are also excellent options for camping, kayaking and canoeing. In 2013, Ortlieb panniers received the gold award at the Eurobike international tradeshow. The brand has been a member of the European Outdoor Conservation Association since 2008.