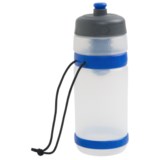 Closeouts. With a water filter threaded into the cap, Outdoor Products' Water Filtration squeeze bottle improves the taste of water by removing common contaminants and bad-tasting chlorine.
Average Rating based on
18
reviews
3.111111
0
5
Verified Buyer

Reviewed by Jo from California on Tuesday, June 2, 2015

This isn't for purifying water, but it's still such a useful product. Anticipating the drought in California, I already have water filters, but it's possible that the quality of the water will decrease over time, rather than just completely drying up. So these should be perfect, especially with the extra filter. Highly recommended!

Verified Buyer

Reviewed by Fly fishing fool from Northern CA on Friday, April 24, 2015

I ordered this bottle with the intent of using it to filter my drinking water for safety purposes. THIS IS NOT A TRUE WATER FILTER in this bottle. Think of it like a Brita filter that you use at home for making tap water taste better - that's what this is supposed to do, not make questionable water potable. It may be a good companion for a steri-pen type of UV treatment method, but it will not make water potable.

Verified Buyer

Reviewed by jt from sc on Thursday, March 12, 2015

Bought this for my son, he won't use or because he says it's too hard to get the water.

Verified Buyer

Reviewed by OlyWAOutdoorMom from Washington on Friday, November 7, 2014

My son is a big water drinker, but refused to drink water at school because it tasted like chlorine. He was packing multiple water bottles to school with "good water" from home in his already heavy backpack. He LOVES this water bottle. No more packing water in his backpack to school. He can carry this one empty to and from school and he says the nasty school water now tastes delicious in his super cool filter bottle. Can't believe it's a close-out! Bying several more. For hiking and backpacking we have our Katadyn, but this is perfect for day-to-day use in terms of improving the taste of water from community sources.

Verified Buyer

Reviewed by Johnny the hiker from California on Friday, August 22, 2014

Got this bottle for day hiking so I didn't need to carry a full filter. It seems like a great concept but it is impossible to get anything from the bottle unless you really really really work at it. It simply doesn't function well, or at least not well enough to meet my expectations. I'm returning it.

Reviewed by Grace Dho from Seoul, Korea on Sunday, June 22, 2014

I agree with the below comments, it's not bad, but not ideal. it's hard to drink out of, and unfortunately, not fits in my cage.
I'll get another bike water bottle.

Verified Buyer

Reviewed by Millie from Philadelphia on Tuesday, May 20, 2014

Unfortunately I wish I had read the previous reviews before purchasing.
I liked the idea of the filter for days out biking and filling the bottle from drinking fountains on the trail - and in terms of improving the taste the filter works great. But as mentioned in other reviews, you have to both squeeze (with both hands in my case) and suck to get any water out, and even then, it's an incredibly slow flow.

Also, the little blue band at the bottom isn't really attached to the bottle- so when putting it in and pulling it out of the cage on my bike it eventually came off. Not really a problem, but not really ideal either.

I will stick with this bottle for now, but once it heats up outisde I will probably have to get a different bottle for my bike rides if I don't want to struggle to get my water.

Reviewed by twinmommy from colorado on Tuesday, October 22, 2013

Bought this bottle for disneyland for obvious reasons. The filter is super slow, water has to be sucked and squeezed at the same time. My 5 yr olds could barely get a drink out of it. Also can not get the last 3rd of the water out so had to keep refilling it. Not worth the effort.

Reviewed by Alaska Hikers from Alaska on Monday, September 9, 2013

For our upcoming trip to Ireland, this filtration system really seems to do the trick.
Leaving behind the pristine waters of SE Alaska and into Eire, we indeed needed a safe alternative to drinking water. Your bottle does the trick and including the extra filter is a win-win!
THANKS!

Reviewed by geocon from Spokane, WA on Sunday, May 26, 2013

Good quality and design.