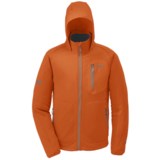 Closeouts. For those days when the biting cold wind seems to be following you everywhere, Outdoor Research's Powerhouse hoodie sweatshirt lends the wind-blocking protection you need with Polartec® Wind Pro® fabric. The included, generous four-way stretch makes this layer perfect on or off the mountain.
Average Rating based on
4
reviews
4.500000
0
5
Reviewed by Andy from Virginia on Saturday, January 25, 2014

I love this so much I actually ordered a 2nd one. I'm 6'2" and about 185 and it's almost impossible to find clothing that fits snug for backpacking. The M fits perfectly. I use it as a mid layer for very cold days and a top layer for weather in the mod 40's and up. I would recommend this to anyone.

Reviewed by Blueeyeddevil from Northern Virginia on Friday, January 10, 2014

This aint your girls'-softball-team-watching hoody (though it could certainly be worn for that), it's much nicer than that, as the description (and the fact that it's an Outdoor Research product) suggests. Close-fitting but not ridiculously tight, with NO excess, billowing, material-spillover around the midriff (meaning it looks good on people who are in shape, not like a lot of jackets, which seemed designed for the fanatical fast-food crowd). It is quite warm, keeping in mind that it's a HOODY and not a windproof soft-shell or down jacket. I have not had a chance to test it in rain, but I don't have expectations that it would shine in the area of repellancy; after all, it's a HOODY, not a rain jacket. It would likely be fine in a short-lived light mist or drizzle--certainly not in a driving downpour, however. It is not particularly compressible, which is fine; it's a HOODY. The pockets are nice (all 3 with zips of a different color--stylish!) and relatively capacious; I always like to have a Napoean pocket on my jackets and the Powerhouse comes through in that area. The neck piece comes up quite high and is stiffer than most, which means it stays up, which means it always covers your neck if you want it to. This hoody would likely do well in temps of mid to upper 30s, provided you have a decent wooly baselayer or two beneath, but it's better suited, I think, to weather in the 40s. The hood itself is a nice cut; not too big, not too small. The four-way stretch material means you can order the smaller size if you're in-between sizes, and not really worry about mobility (I'm 5'10", 160lbs, ripped, with a 39+ inch chest and the Medium fits me perfectly). For a fitted hoody, I think the sizing is pretty spot on, but maybe--maybe--running more toward the smaller end (but again, the four-way stretch material can make up for any slight tightness). The complaint from one reviewer about arm-hole sizing being to small does not match my experience. I've got fairly large shoulders/arms for my size and I've noticed no snugness in that area, but everyone is different. One more thing; the sleeve ends are not adjustible. I'm okay with that; makes for a sleeker look and this is not what I consider "performance" (i.e., sport) equipment, thought it could be. Bottom line for me, this is an excellent, functional, warm, attractive, well-fitting hoody that I use more as a 'round-town jacket than for hiking or climbing, though it could certainly work for those activities too.

Reviewed by artismo from san clemente on Wednesday, November 6, 2013

I just love polartec windpro! this garment has just the right weight for most activities. the problem is the fit. VERY TIGHT under the arms-even with just a tee on.
for by build I find the sleeves quite long, but that is usually the case these days with most brands. so it will be going back--sorry to say!

Reviewed by MTTrailrunner from MT on Sunday, April 21, 2013

This is one of the better weather-resistant, active fleece pieces I've seen. It's definitely on the hardier side of the spectrum for these types of things..I could actually see wearing this as an outer piece in quite a bit of different weather, even flat out hard rain. Zippers are fantastic, and waterproof..really I've come to really appreciate good zippers; it can make a jacket just a downright friend over the years. The hood on this I don't like quite as much..it's one of those kind of two piece things where the collar goes up high, but the hood fits more like a football helmet sort of configuration rather than really sealing you up...it sort of leaves a bit more cheek exposed. You wouldn't think it much, but on wind chill days you'd know what I mean. Overall a real bomber that I could see being about all you need as a backcountry jacket unless you really hit some bad weather. The fleece backing is very comfortable, and stretch and mobility is very good. Again, it's on the beefier end of midweight overall, which may be a pro or a con depending on what you want. Layout and fit is thoughtful and top notch. Sizing in this was good, maybe on the big side..I had a Large in the OR Alibi that fit much snugger than this did. This fit more like the L I tried on in the OR Minthrilite piece. I've come to really like OR stuff and how they're built and the value they provide. They are getting slightly more expensive, but still good bang for buck. I'd say this is perfect for backcountry skiers, craghoppers, or just weekend warriors out in some weather. But again, it's definitely technical and specific, as all these powerstretch, windpro type fleeces are. Frankly, a lighter, less weatherproof fleece is more comfortable and plenty for most leisurely stuff, and high end softshells are gonna be more technical and weatherproof and whatnot for the hard core. A lot of midlayer puffy type jackets are right in this genre also, the sort of one-layer-do-it-all, so it has stiff competition. You probably need to really be seeking out this kind of creature to be happy with it..a weather resistant, burly fleece.