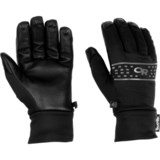 Closeouts. Thanks to TouchTec leather technology on the palm and fingers, Outdoor Research Sensor gloves allow you to use your electronic device without taking them off.
Average Rating based on
13
reviews
3.769230
0
5
Reviewed by John (Karate) Crotty from Michigan on Friday, March 14, 2014

I live in Michigan. This winter has been miserably cold. I purchased these gloves because they were on sale and I wanted something to keep my phalanges warmish while walking from my vehicle to my office and from my office to my vehicle. The first time I tried these on they did not feel comfortable. I thought I may have to break them in like a new pair of leather boots, so I wore them while watching television. This did not work and it was even worse because I wasn't able to change the channel. These gloves have way too many seams.

The first day that I wore these outside I nearly ran out of gas while driving to work. It was about 22 degrees Fahrenheit on that morning, so I figured this would be a good test for my new sensor gloves. It was, the gloves failed to keep my paws warm at this temperature. I was able to check my iPhone with these tech gloves on while refueling my vehicle and standing a safe distance away from the gas pump, but the seams in the gloves and the very large finger tips made it difficult to navigate around iOS.

My disappointment was too great and I haven't worn the gloves since that day. Instead I've been wearing my Mizuno Breath Thermo Knit Gloves, which actually seem to keep my hands warmer than these dang sensor gloves.

Reviewed by TK About Town from Michigan on Friday, February 28, 2014

I'm a big fan of OR products in general (this is my 4th pair of their gloves), but these are seriously subpar. The fit is extremely poor...absolutely no precurve to the design, and the full-leather palms bunch up very uncomfortably. An XL in this glove feels significantly larger than an XL in the other OR's I've owned. The fingers fit way different (1/2" of extra material in the pinkie, for instance) which really affects their dexterity. Stupid, especially given that they're supposed to be for manipulating touch screens.

Reviewed by Avid camper from Indiana on Tuesday, February 18, 2014

I tried two different sizes if these gloves. I really wanted them to work because the quality is top notch. I have several OR products which are amazing but these gloves missed the mark. The seams on the tips of the gloves dig into your fingers. Also, the bulkiness of the leather makes it hard to utilize the touch screen on your mobile device. Good concept, bad construction.

Reviewed by Pat the Bargain Shopper from Lancaster, PA on Monday, February 17, 2014

My husband bought these for use with Kindle, cameras, etc. He bought larges and they seem to fit him well. I also bought a pair in the womens. I bought mediums which is what I usually buy in gloves. They are fairly tight so I will be returning mine.

Reviewed by Northeast jogger from Northeast ct. on Friday, February 7, 2014

Love these gloves for running in cold weather. I don't use Bluetooth just old fashion put my phone in pocket and go . Gloves are warm enough to run in 20 degree weather and sensors work great

Reviewed by GlyCERin from South Korea on Tuesday, February 4, 2014

These gloves give high performance for its price.
But need to improve quality control.
the stretch code is damaged.

Reviewed by OutdoorsMan23 from Michigan on Friday, January 24, 2014

Gloves work great for touch screen phones, laptops and in car touch screen radios. In general the fit of the Large is good. Only issue is that the thumb seemed to be a little long compared to other gloves of similar size. Used in condidtions down to -30C for short periods of time.

Reviewed by MidwestDude from Ohio on Wednesday, January 22, 2014

I tried these in both a medium and large and the fit was poor in both. With my index, middle, and ring finger shoved in as far as possible; the thumb was still WAY too long and the pinkie was too long also. No two pairs of these fit the same in my experience--I tried them on at local stores too. The TouchTec leather was slippery and felt clammy to me when trying to use them to drive. The seams at the ends of the fingers were uncomfortable. What's the point of having a touch-screen compatible material on such an extensive portion of the glove anyway, especially when the seams at the fingertips are so crude?? I didn't have any luck touching very specific parts of my smartphone. These were pretty much only good to swipe to answer; nothing more specific than that. The only positives from my perspecitive were the insulating materials on the backs of the hand, the cuffs, and the clip to hold the gloves together.

I've always like OR gloves and products in the past. I won't place much weight on Backpacker reviews anymore. I returned the gloves of course.

Reviewed by YEP from Denver, Colorado on Wednesday, January 22, 2014

I was skeptical but the touch feature works great. It also works on all fingers, not just on two like some other gloves.
It is a pretty standard glove but the touch feature makes it really great.

Reviewed by texhowdy from New Mexico on Wednesday, January 22, 2014

I wanted a mid-weight glove that would work with my iPhone and these fit the bill. Nicely made, the palms and fingers are smooth leather and don't have the obvious pads on the tips but work on the touch screen very well. The backs of the gloves are stretchy which makes them snug but they will stretch out a little with wear and makes them more comfortable.