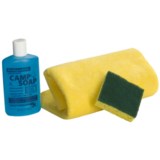 Closeouts. Yes, there is such a thing as a clean campsite; all it takes is Outdoor RX's Camper's Kit, which includes a super-absorbent towel, scrubber sponge and biodegradable camp soap that you can use to clean your cooking gear and yourself.
Average Rating based on
23
reviews
4.478260
0
5
Verified Buyer

Reviewed by Preschool teacher from Minnesota on Monday, June 22, 2015

This camp soap is great - it even cuts the grease with cold lake water. The towel is OK - dries very fast but sheds yellow fibers.

Verified Buyer

Reviewed by WIO from Michigan on Tuesday, June 16, 2015

This was good deal. The towel alone was worth the price I paid (although definitely not as good as a PacktTowl)
I've used the soap before and it works pretty well for everything in camp and on the trail.

Verified Buyer

Reviewed by Lizzie from Washington on Thursday, April 9, 2015

This is a great set for cleaning up camp kitchens.

Verified Buyer

Reviewed by TM from SD on Friday, October 10, 2014

For this price, I don't think you'll find a better deal. The sponge is a necessity for camping/backpacking clean up. The towel will be just as good as others you can buy for 4X the price of this entire kit, and the camp soap (all 8 ounces of it in the kit I received - will need to be transferred to a smaller bottle for backpacking adventures) is also a basic necessity for outdoor endeavors. This is an excellent value, period.

Verified Buyer

Reviewed by Desert Dave from Carson City NV on Monday, September 22, 2014

Hey I just need to outfit my kid with a pack towel and stuck with tradition. I've been using these "shamwow" type cloths since the mid 80's. I cut this one in half as its plenty big for 2 towels. They are super soft, get softer as yo beat em up, they are tough as nails and light. The soap/sponge will go in the camping box.

Reviewed by Burrita from California on Sunday, September 14, 2014

Overall I don't think I would buy this again. The sponge sheds green particles when you use it; I have never had a kitchen sponge that does that to this degree. There are no instructions on how to wash the towel or if it can be machine washed at all. I guess I will find out what it looks like when it comes out of the wash. The soap says it works with warm or cold water but I cannot confirm that. In warm water it worked all right, in cold water it seemed to make hardly any difference if I used soap or not and fat/grease simply would not come off. I will keep using it until it is gone because I don't know if biodegradable soap is ever better than this but overall I think the dishes would have looked similar without soap.

Verified Buyer

Reviewed by Kayak Kath from Michigan on Thursday, August 14, 2014

I ordered the Outdoor RX Camper's Kit for kayak camping trips. I was out of camp soap, so the towel and mini-scrubby sponge were a bonus. I haven't "field" tested it yet, but pre-rinsed the towel as recommended, set it outside to line dry, and it did dry fairly quickly. It really does absorb a LOT of water, and hopefully will hold up over time.

Reviewed by Karen the newb from Florida on Tuesday, June 24, 2014

Great product eve with the 4 oz bottle. LOVE the towel

Verified Buyer

Reviewed by CO Rockies Girl from New Mexico on Wednesday, June 4, 2014

This little kit is great for car campers - the soap is a generous 8 oz, and the towel and sponge are just right for packing into a camp kitchen kit. Would definitely buy again, especially for the STP price.

Reviewed by CT Hiker from CT on Tuesday, May 27, 2014

I bought this as a backpacking kit and was sorely disappointed. The description says 4 oz of soap, it is actually 8 and is very large. I could trim the towel and sponge but I can't do anything about the soap. Back it goes.