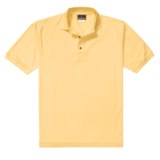 Closeouts. Double mercerized to improve strength and luster, the cotton of Outer Banks' pique polo shirt delivers a smooth, refined look and lasting comfort.
Average Rating based on
59
reviews
4.101694
0
5
Reviewed by Oleg from Russia on Sunday, July 12, 2015

Excellent polo Double Merserized cotton. But one of two polo, was marriage: bleached spots. It is not suitable to wear. It is sad - this is not 2dns.

Verified Buyer

Reviewed by Jimmy from Illinois on Monday, June 15, 2015

Comfortable, good fit.

Verified Buyer

Reviewed by Siva from Westborough, MA on Tuesday, June 2, 2015

the t-shirt quality is good, however I have order size M which is like size XXL. Too big for me. Generally M size of most of the brands fits for me.

Verified Buyer

Reviewed by Chuck R. from Rhode island on Saturday, May 16, 2015

but it is absolutely over-sized.

I'm 6' and 180lbs and usually wear a large tee shirt or polo shirt. This shirt fit me like a 2x. The sleeves were past the elbows, the shoulder line was half way down my bicep and the chest/waist cut was generous enough for Santa Claus.

I would strongly recommend ordering a size smaller than usual and even then odds are that the shirt will be plenty big enough.

Reviewed by Jon K from Minnesota on Friday, February 27, 2015

I returned this item, partly because I didn't like the color and I had purchased another similar shirt that I kept instead. The shirt seemed to have extra fabric in the front near the armpits. That might work for you if you have giant pecs, but I don't, so it hung strangely. The fabric itself was a nice texture and appearance.

Verified Buyer

Reviewed by Drake from Princeton on Monday, June 2, 2014

Decent quality very lightweight fabric, apparently. Haven't washed yet so don't know about shrinkage but took other comments into account when sizing, and it fits great. Can't possibly beat the value!

Reviewed by Kevin F. from Cincinnati, OH on Sunday, May 4, 2014

When I first got these shirts, I thought they looked good, they seemed well-made, and the material (while not as soft as I expected from Mercerized cotton) was quite comfortable. But after just a few times through the laundry, they have shrunk so badly, they will no longer stay tucked in to my pants. And it's not like I don't know how to wash clothes; I followed the recommended settings on the care label, and they shrunk anyway. I have some LL Bean polos that I bought over 10 years ago that still fit like the first day I wore them, and they've been through the laundry a lot more than these. Not recommended.

Verified Buyer

Reviewed by A customer from Oklahoma City on Wednesday, April 23, 2014

It's hard to find mercerized cotton shirts at this price. Mercerized has a sheen and feel that's unique. I'm always checking online to rotate out and replace my summer stock. These look identical to some Outer Banks polos I bought several years ago from a different site. They are a fine-mesh pique and decently constructed. Mercerized cotton is so comfortable in the summer - why do you think golfers wear it? Just remember,
LINE DRY them outside, or on the shower curtain bar, on plastic hangers. That way they retain their length. But if you do shrink them in the dryer, you can reverse some or all of the shrinkage by washing and line drying next time.

Verified Buyer

Reviewed by Rick, a skier from Tennessee on Sunday, April 20, 2014

More pique than smooth pima and the placket is reinforced with plastic that loses its shape when dried in a clothes dryer.

Reviewed by Carpedozer from California on Monday, March 31, 2014

Pros: For those of you who miss the fuller cut of the classic polo shirt, along with the comfortable feel of cotton, you should snap these up while there is time. The cut is generous, and allows plenty of freedom for your backswing, while the length means the tail won't be coming out on your follow-through. I understand the new "wicking" fabrics are marvels of modern technology, but there are times when only cotton will do. Outer Banks has always made a good product at a reasonable price, and this shirt is no exception, because the STP price is terrific. These shirts wash well and are easy to iron, too. Wish there were more colors available.