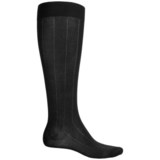 Closeouts. Your dress socks never looked (or felt) so fine. Pantherella of England's specialty is lightweight dress socks -- known the world over for maintaining meticulous quality standards, hand finishing, and the use of only the very best natural fibers.
Average Rating based on
75
reviews
4.560000
0
5
Verified Buyer

Reviewed by Victor Vain from CT on Tuesday, December 27, 2016

Pantharella is a can't miss brand

Verified Buyer

Reviewed by Picky from NYC on Friday, July 15, 2016

Great cotton socks, would be nice if there were ribbed version as the wool.

Reviewed by The Rising Wind from Edge of Reason on Monday, February 8, 2016

Material is nice, but it is very light, almost translucent. I prefer a thicker fabric for a cushiony feel. Love the over-the-calf fit. You can wear them with the confidence that the end of your sock will never show when sitting down. Of course, if this is a problem for you, longer pants may be in order. Even though they aren't what I was expecting, I'm keeping them because hey, they're socks. You always need socks, right?

Verified Buyer

Reviewed by hcinco from Colorado on Wednesday, January 27, 2016

The material is light. The elastic is very good. This is a very well made product.

Verified Buyer

Reviewed by Jimmy from Chicago on Thursday, October 29, 2015

Can't go wrong with pantherella. I am a size 13 shoe and the large works for me.

Verified Buyer

Reviewed by Greg from Louisiana on Sunday, August 30, 2015

These are the best dress socks I have ever worn, and your price was significantly less than I have paid at other locations. Very comfortable and durable.

Verified Buyer

Reviewed by bike nc from NC on Wednesday, August 26, 2015

These socks are warm and comfortable. Not ideal for hot weather days. One star off as they aren't very snug , but that can be an advantage too. Definitely reach to the knee.

Verified Buyer

Reviewed by Kishman from PA on Monday, August 24, 2015

A finely made sock that suits up well. Fine Egyptian cotton and of the highest quality construction and material.

Verified Buyer

Reviewed by Nana from Maine on Saturday, August 8, 2015

When Pantherella Over the Calf Dress Socks are on sale or closeout I order them right away for my attorney son. He loves the quality and especially the length when in court and sitting down. Nothing worse than showing your skin with a beautiful suit and your pant leg is up! The quality is absolutely amazing, soft, durable, washes well. I can't find this particular make anywhere other than STP. I ordered four pair and he was delighted! Great brand to purchase especially if your guy is a professional.

Verified Buyer

Reviewed by Lemmy from Dallas on Thursday, June 25, 2015

I'm a repeat buyer of these socks, so I like them. They're not great, but they're good. And a good value.

Verified Buyer

Reviewed by bluejohn from Michigan on Saturday, January 3, 2015

Perfect dress socks. Fit well and extremely comfortable. Wear well if you are careful.

Verified Buyer

Reviewed by CT from Atlanta on Friday, January 2, 2015

Good socks are hard to come by, especially at a reasonable price. These are a godsend. Intend to order more for friends and family.

Verified Buyer

Reviewed by Frogfan from Texas on Thursday, January 1, 2015

Best dress socks ever. Worth the extra cost to not have them fall down.

Verified Buyer

Reviewed by Mike from North Little Rock, Arkansas on Wednesday, November 5, 2014

Very comfortable and they actually stay up all day!

Verified Buyer

Reviewed by Mike from Arkansas on Thursday, October 23, 2014

Great fit and very comfortable. They actually stay up all day!

Verified Buyer

Reviewed by Chitown commuter from Chicago on Thursday, October 9, 2014

These have gradually replaced all of my other business socks, whether worn out or not. Much more comfortable and a much cleaner line. Doesn't hold lint like the other socks I've bought in the past.

Verified Buyer

Reviewed by Globe from Texas on Tuesday, August 19, 2014

Good to purchase nice quality socks at a great price.

Verified Buyer

Reviewed by NYC Lawyer from nyc on Wednesday, July 30, 2014

good quality. very comfortable. good fit--after the first wash.

Verified Buyer

Reviewed by Flocculus from Virginia on Wednesday, June 18, 2014

I like these socks. They seem decent quality. They are made well enough to stay up. They seem that they should last a while. The square design is pretty prominent.

Verified Buyer

Reviewed by Jimmy from New Jersey on Tuesday, April 29, 2014

I ordered the size Regular and they are literally the size of a Christmas stocking. I have never seen socks that large before in my life. Needless to say, unless you are size giant, you may want to look somewhere else for socks.

Reviewed by Buffalo Joe from California on Thursday, January 23, 2014

Pantheralla over-the-calf dress socks look good, feel great, and are the best ever worn
by this 82-year-old man.


Reviewed by mlm1938 from Texas on Tuesday, December 24, 2013

Incredible quality, will last for many wearings and many washings. Fits exactly as represented. Color stays true, even after a number of washes. Over the calf comes almost to the knees.

Reviewed by The Wine Guy from Cambria, CA on Monday, October 7, 2013

Great quality and the price is incredible. Saw these socks at Harrods this last year at $42+.

Reviewed by Victor Vain from Wilton, CT on Tuesday, October 1, 2013

These are thin socks. I have feet that run very hot so these work for me. They have the tendency of making my feet feel more form fitting in the shoe which I like. They may or may not last given how my feet sweat but I don't think I care because the comfort is there. The nicer the shoe you are wearing, the more you will like these socks.

Reviewed by Flagger from New Orleans on Saturday, August 3, 2013

for the world's best socks.

Reviewed by Ephblum from Amherst, NY on Thursday, July 25, 2013

Have bought several pairs, great socks along with the wool ones. They are very durable compared to cheaper dress socks as you don't get the holes appearing on the bottom of your feet. Over calf means you can wear them up & tight so they don't fall down for a clean/formal look, or wear them down on less formal/hotter days.

Reviewed by mr suits from greenwich, ct on Thursday, May 30, 2013

These are thin socks, but they're not my favorite: I prefer Nordstrom-brand socks to these. There's just something off about the length of these socks and their texture, but they're great for snug dress shoes.

Reviewed by Ryan from Washington, DC on Friday, May 3, 2013

These socks are great. No complaints whatsoever.

Reviewed by MOE THE SWIM WALKER from AUSTIN, TEXAS on Wednesday, May 1, 2013

AFTER MY HUSBAND WEARS THESE I WILL PROBABLY ORDER MORE.

Reviewed by Brian1 from PA on Tuesday, April 16, 2013

I saw these at Neiman Marcus at like $40. They had a whole rack oif them. Quality socks 4 sure. Waeering a pair now. Bought about a dozen at the price I got at this site. They MAY be seconds, but I've not noticed any flaws whatsoever so far. Hightly recommend them for dress or work if you waer nice clothes to work, suit or not. Maybe a bit thin for winter except under boots.