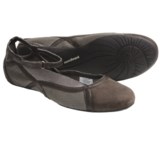 Closeouts. Delicate style with a touch of mesh to keep active feet ventilated, Patagonia's Maha Strap shoes finish off a soft, feminine look with a pretty ankle strap.
Average Rating based on
20
reviews
4.350000
0
5
Reviewed by ND from CA on Tuesday, March 5, 2013

I liked the style online, but they just looked flimsy in real life. Comfortable, but not sure how long they would last, plus didn't look great when I put them on.

Verified Buyer

Reviewed by Nycingrid from NYC on Saturday, February 23, 2013

It is still winter, so I have not had a chance to actually wear these little shoes, but they seem comfortable and stylish enough to wear with skirts. They have nice rubber soles and look like they would be great for walking, which is why I bought them. For me, the fact that they wrap around your ankle and, therefore, cannot just be kicked off is a disadvantage. For others this would not matter or would even be an advantage. Also, the ankle strap is very thin and I wonder if it will break. Overall, I was pleseantly surprised by them and hope to use them heavily once the weather is warmer.

Verified Buyer

Reviewed by SarSar from Minneapolis, MN on Friday, February 8, 2013

I usually where an 8.5, but ordered an 8 to try bc I loved the look of the shoe so much--the 8 was perfect. The shoes are great for everyday wear, and are nice for travel bc they can be dressed up or down.

Verified Buyer

Reviewed by C. C. Gal from Cape Cod, MA on Monday, February 4, 2013

They are rather wide, especially at toe and adjacent vamp area, but I found that was pretty much taken dare of by cotton socks. I really like the ankle strap, takes place of high back at the heel...no blisters. These won't take up much room in a saddle bag where room is at a premium. Nice to have shoes to wear when off the bike instead of traipsing around in heavy boots.

Verified Buyer

Reviewed by Olieshko from Ukraine on Monday, January 28, 2013

I have just received these flats. Came true to size and feel convinient. Not used yet.

Verified Buyer

Reviewed by Dr R from Silver Spring, MD on Thursday, January 24, 2013

Great buy

Verified Buyer

Reviewed by Champagne for breakfast from San Diego on Sunday, December 23, 2012

This is my second pair of this shoe, I have both brown and black. I also have the ballet flat version. It is the perfect travel shoe as it packs easily in a carry-on or as a comfortable wear-on the plane shoe. It is sturdy and well made enough for long walks and although the sole is thin, it is non-skid and waterproof. I have a slender foot and wear between a 7 and 7 1/2 and the 7 fits me perfectly. The shoe is casual, but looks delicate enough to wear with skirts and dresses. I have taken one of my pairs of this shoe all over the world - from camel rides in India to urban walks in Italy. I consider it a perfect shoe for someone who walks lightly but frequently, and needs a versatile, light-weight shoe.

Verified Buyer

Reviewed by Love shoes from TN on Saturday, December 8, 2012

Loved them so much, I bought them in black for myself and my daughter; we already have them in brown. Very comfortable, feel like bare feet. So cute and stylish. Excellent sale price.

Verified Buyer

Reviewed by Champagne for breakfast from San Diego on Friday, November 30, 2012

I love the Patagonia Maha Strap shoes. I have them in the brown. I also have the Maha Breathe ballet flat in black. They are a true fit for my slender size 7 foot with a high arch. They look nice and wear well - although they do start out looking casual, not polished. I travel a lot, and they are perfect for stuffing in my carry-on as an extra pair of shoes. I wear the Mahas all over the world as long as I am not doing a full day of walking on cobblestones. They are wonderful to put on for evening after a full day of sightseeing. They are perfect for cruising as well, and even for daily walks on deck. No falling down stairs with these shoes as the sole is non skid. I bought a pair for my daughter-in-law who is a teacher, and she loves them. My only fear is that with such a thin sole they will wear out with heavy use. But the thin sole is also a plus - so there it is! I will probably buy another pair just to make sure I always have a pair!

Verified Buyer

Reviewed by shoe lover from TN on Monday, November 19, 2012

Great little lightweight shoe, feels like walking barefoot. Very comfortable right out of the box. I always wear an 8, but based on others advice, ordered a 7.5 which fits perfectly. Loved them so much, I ordered a pair for my daughter and favorite niece!