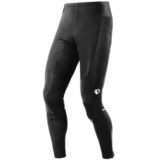 Closeouts. Pearl Izumi takes performance to a whole new level with Amfib running tights. A full leg and a protective soft shell design lends optimum performance.
Average Rating based on
27
reviews
4.518518
0
5
Verified Buyer

Reviewed by NoCo Rider from Colorado on Tuesday, February 24, 2015

This is the 3rd generation of Amfib I've purchased. Fit is MUCH tighter than the others (which I still own and wear). I fit a large in other Pearl shorts/bottoms but with this generation of the Amfib I had to go with a large. I'm 6'3 with a 33" inseam and the XL was a long fit. These are definitely sized for the tall lean athlete. The fabric is elastic and stretches but a more muscular build will be challenged to fit into these.

The material does NOT slide easily over base layers. If you go with a base layer definitely use a slick fabric.

These are by far the warmest tights I've ever owned. I use 'em for bicycling and I'm mostly on the road. For me, without a base layer, the temp limit is about 20 degrees. Below that I'd want to add another layer. Note this is on an early morning ride at sunrise so on a sunny winter day I'm sure I would be comfortable in cooler temp's.

A few nice features to highlight:
The picture doesn't show how the tights cover the top of the shoe - a very nice touch to help keep the feet warm. The ankle zips are welcome as is the elastic draw string.

One observation is that the tights made noise on the initial rides as they rubbed on the leather bicycle saddle. This has dissipated after a few hundred miles. Never a problem and no signs of wear to the tights nor the saddle, just a note.

Verified Buyer

Reviewed by Evan from Connecticut on Thursday, January 22, 2015

After reading over the reviews, I decided that large size would be ideal (I am 6'4" and 210 lbs.) but gave the XL a try, because some of the reviews had said that they run small (and because that was all that was available)l. When I tried them on, the waist fit (with a little cinching) and everything from the knee down felt fine, but the quads were very baggy. I have relatively skinny legs, and even considered keeping them, as they still would have performed well for snowshoeing or winter hiking, but since I really wanted them primarily for running, I am sending them back. If there was a large, I may have exchanged them, but I have to agree with some of the other reviews that these things feel more like a wetsuit than traditional winter running tights. They are serious tights! As a bit of a gear junky, I was a bit in awe of how much protection from water and cold they offered. I even wondered if I could have skied in them.

Anyway, sizing is very important, as they aren't very stretchy, so under or over-sized are equally limiting. If you are like me and are looking for running tights that you can use in 25-40 degree temps, these are probably overkill.

Verified Buyer

Reviewed by PN from Chicago on Sunday, January 18, 2015

These are listed as running tights, but I have been using them all winter for cycling and they are outstanding. They are extremely tight, so they're probably not for everyone. I'm 6'0", 185 and the L takes a bit to tug on, but they are warm and extremely comfortable..

Reviewed by Gearguy from Southern In. on Saturday, January 10, 2015

I posted a review about 2 years ago on how great these were. After a week of working outdoors in 0 degree temps., I have changed my mind, I think they are better than great. Not once did I get cold and these tights were a big part of the reason. If you can get these in your size buy them. If a size large is available again I am going to buy a second pair just so that I will always have plenty.

Verified Buyer

Reviewed by Jstrem from Michigan on Thursday, December 4, 2014

I bought these mainly for winter biking. They kept me warm on a nice ride in 20 degree weather. These work great with a pair of chamois underneath for riding comfort.

Reviewed by Squirrely from Ohio on Friday, February 28, 2014

I'm 5'7, 140 lbs, 29-30 waist. Lean and fit. Longer torso, shorter legs (29' inseam) I ordered the small. Fit is a little tight, takes some work to get into, but that's okay since they are tights. Legs come down to my heels, but that's due to my physically short inseam rather than the product. Rest of the tights fit like a glove even with padded bicycle shorts beneath them.

These tights are built to absorb a nuclear strike. They look and feel like body armor and function like it. The material is thick and shielded from the wind in the right areas. The fleece lining preserves body heat. They keep you toasty below freezing in a good headwind. I cycle and run in them.

I picked these up on sale. They were worth every penny and probably worth the typical "closeout" price as well.



Reviewed by MT from Montana on Wednesday, February 26, 2014

I purchased these for a Montana winter which has no end in sight. They are warm, waterproof, and well made. I ordered a large which are a bit long for my 6 ft 200 lb frame. I have used them for hiking, snow shoeing and shoveling snow. I am glad I have them especially at the price I paid.

Reviewed by David from Maine from Maine on Saturday, February 8, 2014

Wow - these tights are really in a class all their own. I have many pairs of tights - CWX, Asics, Salomon - and use them for nordic skiing (primarily skate), trail/mountain running, as well as both road and mountain biking. I have found that each tight - by manufacturer as well as by the tight itself - seems to have a niche for which they function best.

First of all these are made with bombproof construction. They should be classed as 'super-heavyweight' as they make even CW-X Insulator tights seem flyweight. The sheer weight of materials is substantial and so offers incredible protection from all manner of elements - wind, snow, rain, ice, etc... They are so warm in fact, that on a 25 degree winter day while nordic skiing hard, I had to change out of them for a lighter pair of tights as they were just too warm!

The fit was true to size. I am 6'0" and lean at 150 lbs - with a 32-33" inseam. The tights are constructed with a very high lumbar spine area so cover one's back nicely while cycling (leaning forward). The calves are slightly tighter than the thighs which provides a modest compression-type of fit - an unexpected and unadvertised benefit). The ankle zips are well-positioned and are housed out-of-the-way in a nice pocket. The reflective stripes on the back of the lower calf areas is a thoughtful, safety measure.

My only criticism - which really isn't a critique - more of just being clear for other potential buyers - is the weight and consequent warmth. These are NOT tights to think about when shooting for a fast winter run on trail or road - they are just too heavy, too windproof, too warm. But...as a versatile piece to have in one's winter sports arsenal they are the bomb - incredibly well-constructed, will likely last for years and years, and offered on Sierra Trading Post at an amazing price!

Enjoy!

Reviewed by Di on the go from South Jersey on Sunday, February 2, 2014

Nice, soft inside and WARM. I used them for skiing, under ski pants at -20 and survived! Great for biking now. (winter in South Jersey.) Order size larger,

Reviewed by tim from Atlanta on Monday, January 20, 2014

If you live in Georgia like me or another warm climate, these tights are overkill unless it is unusually cold or cold and raining. Even though they feel a bit stiff compared to "normal" running tights, they are quite soft on the inside and plenty flexible once you get going. They are also incredibly breathable given the warmth they provide and (although I haven't tested this part out yet) the waterproofing. On the other hand, if you live in a cooler geography than me -- buy these tights at these great STP prices - you won't be disappointed. By the way, I'm 34 waste and 32 inseam and a size L fit me well --- after I roll the cuffs up one turn. Not absolutely necessary, but they are a tad long for a 32 inseam and the roll makes them perfect.