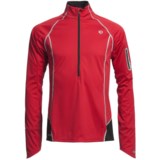 Closeouts. Cold, wet, windy -- Pearl Izumi's P.R.O. Fly Evo shirt handles all sorts of foul conditions with its exceptionally weather-resistant P.R.O. Soft Shell Lite fabric.
Average Rating based on
14
reviews
4.642857
0
5
Reviewed by Trail Blazer from Central Asia on Thursday, February 11, 2016

This really is almost the miracle outer layer for bikers. It is so thin, it is right to label it a "shirt." Yet, it functions as a jacket. I have owned it now for three years, and I wear it every winter, through most of November, and all of December, January, and February, and most of March, every weekday as I bike 5 kilometers to work and back, in all kinds of cold weather. It has amazing, cold knock-down power. I wear under it a high-tech T-shirt; a light-weight (or sometimes mid-weight) base layer; and a high-tech, thin Wickers turtleneck base layer. This combination of 4 layers, with the PRO Fly outside, will take me down to -20 C. I don't get cold, and I don't sweat. I could not wear this combination and walk home, as I would freeze. But riding, I generate just enough heat that I am just enough fine. I live in Asia, and people come up to me all the time and pinch my upper body to see if this clothing system is really as thin as it looks. Then they ask, "Aren't you cold?" "I'm warm," is my reply.

The PRO Fly is quite stretchy, and it really hugs the body. I have a 40" chest, and the medium is definitely tight on me with those three layers underneath, but it works. The sleeves are plenty long. Inside they have an unusual feature, which are two flaps, on opposite sides of the sleeve, which can sometimes hinder for a moment your hand from getting all the way through, but you can keep your hand inside these flaps if you did not bring gloves that day, but it got cold on you: the sleeves are that long. It stops ALL wind, all snow, keeps out a surprising amount of the cold, breathes exceedingly well, sheds light rain, and, if it gets wetted out in a heavier rain, it drys quickly. Hmm… That's everything, right?
But, in addition to that, it has THE best reflective trim scheme I have ever seen on any jacket. There are reflective strips all over the shirt, and they light up strongly from the headlights of a car approaching at any angle. This I really value as I ride in a city, with narrow, crowded, poorly lit streets, with drivers who do not respect bikers and who don't obey traffic rules, at night. The shirt has probably prevented me unawares from getting hit a time or two.

The shirt has held up pretty well too over the past three years too – I am wearing it about 85 days a year. So it is well made.

There are a couple reasons I did not give it five stars, although emotionally, I really want to.
1. The reflective stripes do not seem to stretch like the rest of the material. This causes them to slowly delaminate. I have used SeamGrip to seal them down in a few places. That has worked.
2. Because it is tight fitting due to its powerful stretch, it is tough to put on and take off. I have found that the Wickers Turtleneck Base layer tops (which I have also bought on STP), because they are thin and very smooth, almost slick, are great right underneath the PRO Fly, making it easier to get it on and off.

Let's call the PRO Fly a soft shell shirt. If Pearl Izumi could get the reflective strips to stretch with the rest of the material so they would not delam, and if they put a full zip on the front of this, instead of it being a pull-over, like Jesus, they would be the worker of a miracle.

Reviewed by Craigsedona from Arizona on Thursday, May 28, 2015

The other reviewers cover this real nice pullover well, just want to say that it does NOT have a tight waist, it compromises just a little there for the runners as opposed to a pure cycling jersey. Just a head's up for the lycra crowd, but what a piece! Highly recommended, especially when discounted.

Verified Buyer

Reviewed by trailrunner from Arizona on Tuesday, May 26, 2015

This is the best sports jacket I have ever owned. The fit is trim and fits as though it was made for me. The cut is such that it is usable for both running and cycling. Good lightweight protection that is adequate for multiple weather conditions. This is my go to jacket so I ended up buying a second one even though I have no shortage of other jackets. Occasionally I wish for a larger pocket and a full zippered front

Reviewed by ASL from Boise on Saturday, March 14, 2015

Seems to be pretty wind resistant, is warm and is light. Way to go PI.

Reviewed by Rxheel from Florida on Saturday, January 10, 2015

Runs small, but a great wind barrier. I am a triathlete and used this today on a cool and windy day. It worked great except the zipper pocket in the bag is not ideal to hold nutrition

Reviewed by cascademark from portland, OR on Friday, November 28, 2014

Breathable rain gear is getting better and better- this piece is highly water resistant and doesn't leave you feeling particularly clammy. For cyclists, I'd strongly recommend spending a bit more on a Castelli Gabba jersey, which is considerably superior in every way except visibility at night from the rear. This thing will either flap just a bit in spots or be too constricting- I find both of those qualities pretty annoying. It is the second best thing I've found for riding in the rain. It also has no drawstring/elastic type material along the bottom so it sort of hangs oddly on your body.

Verified Buyer

Reviewed by Lasikdoc from Michigan on Tuesday, April 8, 2014

I have now used it on some mid 50 degree days and stayed toasty as it is a great wind blocker. Trim fit but nice details.
Very pleased with the shell. I wish it were a full zip opposed to a pullover.

Reviewed by Jon the biker from Lansdale, PA on Monday, March 3, 2014

Love this shirt - get one will not be disappointed!

very trim fit, I am 5'8" and 160 lbs, typically get a medium and did in this case also, but it is on the tight side, but it looks awesome!

Have not used it on any active pursuits but looking forward to when I can!

Reviewed by Daniel from Michigan on Monday, January 20, 2014

Light, warm, fantastic jacket. Runs small, wear a small in majority of clothes and glad I got medium.

Reviewed by Mono from C-Town Ohio on Wednesday, December 4, 2013

I immediately put this to the test as soon as it arrived. The temperature was 26 degrees with a wind chill of 9 degrees and light snow as I slid this on over my smartwool merino wool base layer and ventured out to take on my 5 mile run. I could not believe how well my body temperature was regulated over the 35 - 40 minute jog. It also kept me completely dry from the light snow that fell during the entire time. If I could afford it, I would grab another one of these to alternate throughout the winter season.