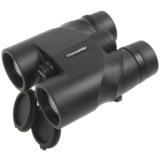 Closeouts. Pentax Gameseeker 10x42 binoculars provide exceptional resolution and high contrast images for hunters and outdoors enthusiasts. They feature phase-coated roof prisms, fully multi-coated optics and waterproof, nitrogen-filled construction.
Average Rating based on
17
reviews
4.529411
0
5
Verified Buyer

Reviewed by Ojinaga from Vt on Wednesday, January 20, 2016

These binoculars are a bargain. I bought some Steiners and they didn't have the clean and crisp clearness of these. I had some TJ Maxx coupons so I paid less than 50 bucks for them. Well worth the money. Case was cheesy and straps were non padded and cheesy as well. The binos are well constructed. I bought a set of straps and used an old binoculars case for them as they are going in the car. Buy them they're worth the price.

Verified Buyer

Reviewed by SockItToMePete from New Orleans on Tuesday, December 29, 2015

Very clear optics. Solid build quality. Attractive design.

Verified Buyer

Reviewed by B.L from Astoria, NY on Wednesday, December 23, 2015

High quality binocular, super clear image ,and compact. I'm very pleased with my purchase.

Verified Buyer

Reviewed by eagle eye from Upstate New York on Wednesday, December 23, 2015

I had a 40 year old pair of compact binocs that served me well, but over the years they took a few hard hits causing the prisms/lenses to misalign creating an out of focus picture. I did a fair amount of research before deciding on the Gameseekers. Price was a factor in my decision making, so for what I paid, I got a very nice pair of glasses that I'll use for hunting and general use.

Verified Buyer

Reviewed by Chiefatk from Killeen, Texas on Friday, November 20, 2015

I purchased a pair of Pentax binoculars to keep at home for watching the deer out of my back window at home, that was years ago. I always keep a spare pair of binoculars in my truck and I had the opportunity to watch a super buck with my spare binoculars, which were not Pentax, and I could not get them in focus before the deer ran off. So, I got rid of those, which were a cheaper Nikon brand, and bought these 10x42 Pentax to keep in my truck. I have several pairs of Pentax binoculars and have been very satisfied with them, as well as the very affordable price.

Verified Buyer

Reviewed by Fukenoslov from Alaska on Wednesday, August 19, 2015

Like the weight and feel to these. Looking forward to moose season with the covers to keep the moisture off the lens and clarity. Will take some getting used to since the eye piece doesn't have the rubber extension, so I tend to get eyelashes smashed against the lens.

Verified Buyer

Reviewed by Ob1-Jacoby from Alaska on Friday, July 25, 2014

We live in remote Tenakee Springs Alaska and live primarily on what we hunt or gather in the summer and spring. Took this out with a few friends to start scouting (hunting season for us here starts in Aug.) and we all were amazed. Not going to get into the name brand comparing game but these binos whooped the pants off of some of my buddies much higher priced optics. I will update after we head out for our 7 day alpine hike/hunt to let you know how they handle abuse after chasing some black-tail deer across a mountaintop or two.

Verified Buyer

Reviewed by Roots Down from Northern California on Monday, July 21, 2014

Haven't had much of a chance to use these yet but they look good so far. They are fairly lightweight so seem comfortable to hold, the image is crisp, and they seem easy to focus. The real test will be our next canoe trip and we have the "opportunity" to test the waterproofness -- ha ha.

Verified Buyer

Reviewed by Jeff H from Texas on Monday, July 7, 2014

Got these for my kids to use on a Kenyan Safari. They thought they were easy to use, good optics, and decent for low light situations.

Verified Buyer

Reviewed by flinthillsks from Kansas on Thursday, May 8, 2014

Took my binoculars out turkey hunting as soon as they arrived, I really like the size and reasonably good optics, for the price, a good purchase.