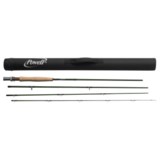 Closeouts. Novice and expert casters alike will appreciate the silky smooth medium action, hair-trigger sensitivity and quality materials of Powell's SSL 9' 4wt fly fishing rod. High grade of fit and finish, typical of Powell rods. Graphite rod blank is fitted with titanium alloy stripping guides and chrome snake guides.
Wooden reel seat and nickel hardware
Anodized reel seat/hardware
Dark green with green and silver trim
4-piece rod
Line weight: 4wt
Rod length: 9'
Rod tube: 31" length, 2-½" diameter
Total weight: 3.7 oz. (rod and tube)
Made in China.
Average Rating based on
11
reviews
4.000000
0
5
Verified Buyer

Reviewed by mj45 from San Diego Ca on Monday, February 20, 2012

This rod was purchased as a backup for my 3 wt for small stream fishing and backpack fishing. I like the fact that it is a nine foot rod, I'm not a big fan of shorter rods in most cases. 8'6" rods aren't much shorter, so why bother. The rod is a nicely constructed and feels light in the hand. I will say it is a little stouter than a 4 wt, never the less it throws a 4 wt line nicely and will probably over line to a 5 wt without a problem. Thanks Sierra Trading Post... This was a "steal of a deal"

Best Uses: Fly Fishing
Describe Yourself: Avid Fisher
Pros: Accurate Casting, Durable, Easy To Transport, Good Tip Action, Lightweight
Was this a gift?: No

Verified Buyer

Reviewed by hubbesb from Decatur, TX on Monday, October 10, 2011

Powell rods are typically a stiff action. On this 4 weight rod, I use a 4 1/2 weight line. The heavier line w/the lighter rod evens out the stiff action very nicely...I also have a Powell 7 weight. I do the same thing...7 1/2 weight line. Casts like a dream!

Best Uses: Fly Fishing, River Fishing, Small Fish
Describe Yourself: Avid Fisher
Pros: Accurate Casting, Durable, Easy To Transport, Lightweight, Sensitive
Was this a gift?: Yes

Verified Buyer

Reviewed by Burgers from Canton, CT on Tuesday, July 26, 2011

I purchased the rod for my son. He's been fly-fishing for several years and has out grown his beginner outfit. This rod is light-years ahead of his old rod. It is much easier to cast and cast far. I hope he doesn't take it to school in the fall so I can fish with it!

Best Uses: Fly Fishing, River Fishing, Small Fish
Describe Yourself: Avid Fisher
Pros: Accurate Casting, Easy To Transport, Well made
Was this a gift?: Yes

Verified Buyer

Reviewed by Momisita5 from sonora, ca on Friday, May 13, 2011

I received this new rod as a birthday gift, to replace an old-stiff fly rod. I'm excited that this summer I will be able to try on our local streams and maybe keep up with my husband. My husband thinks this fly rod is even better than his!

Best Uses: Fly Fishing, River Fishing
Describe Yourself: Casual/ Recreational
Pros: Durable, Easy To Transport, Flexible, Good Tip Action, Sensitive
Was this a gift?: Yes

Verified Buyer

Reviewed by David from palm Desert, CA on Friday, March 25, 2011

Light weight and useful for smaller rivers. Nice case for transportation

Best Uses: Fly Fishing, Great product for smaller
Describe Yourself: Avid Fisher
Pros: Accurate Casting, Easy To Transport, Everything I wanted, Flexible, Good Tip Action, Sensitive
Was this a gift?: No

Verified Buyer

Reviewed by trout lover from Hailey, ID on Sunday, February 20, 2011

I purchased this rod for beginner to intermediate anglers to use when fishing.

The rod has a smooth cast with a medium action. I have cast the Rod but have not fished it yet. The rod cast and has the feel of a good 5 wt rod rather than a medium action 4wt. I cast a 5 wt line on it and it cast well.

For the price I think it is a very good value. Understand that this is not a high end rod, but for the beginning intermediate angler, a good rod at a great price. Remember this is not a true 4wt in my opinion but more like a 4/5 wt with medium action. For those who are more serious fly-fishers it makes a great back-up rod and rod to use for instruction. I would recommend this rod to those who are budget minded but don't expect a high performance rod with beautiful workmanship at this price.

Best Uses: Fly Fishing, River Fishing
Describe Yourself: Professional
Pros: Accurate Casting, Easy To Transport, Good Tip Action, Sensitive
Was this a gift?: No

Reviewed by High Lakes Fisher from Colorado on Thursday, July 22, 2010

Used this rod 4 times seemed to be ok until I hooked into a 15" cutthroat. Cut 1 Rod 0!!! The rod failed 2" above the 4th connection point.

Best Uses: Small Fish
Cons: Breaks Easily, Poor Construction
Describe Yourself: Avid Fisher
Pros: Accurate Casting

Reviewed by Mike from Hope Valley, Ca on Saturday, September 5, 2009

I use this rod in small sierra/tahoe streams. The bottom line is it catches fish. It is lightweight, with good action, makes short/medium casts with ease. I was skeptical that the low cost would mean low quality . . . no way. The only problem I've had is the locking nut on the reel set seems to loosen as the day goes on. I just have to keep an eye on it.

Pros: Inexpensive lightweight

Reviewed by Richie from Colorado Springs, Co on Tuesday, August 18, 2009

Use the 4wt all weekend long,very very good rod.Medium action preform great,rod very well constructed,landed 10-15 trout in a medium running river.Wood seat not very attractive,but I have worst on other rods!

Best Uses: Rivers, Small lakes, Small stream
Cons: Wood insert is blah
Pros: Great action, Light, Well Made

Reviewed by Nate Lindy from Michigan on Friday, July 17, 2009

When i first bought this fly rod i was skeptical. I've used it at the Smokey Mts. and many rivers in Michigan. It is light and inexpensive rod that works great. I am no longer skeptical. This is the best starter rod you can have!

Best Uses: Lake, River
Cons: none
Pros: Accurate, Great starter, Light flexible