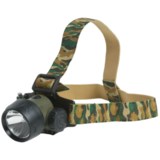 Closeouts. The Primos Krypton headlamp provides versatile illumination via three different lighting options, including a super-bright Krypton bulb, two medium-intensity white LEDs and a low-intensity red LED.
Average Rating based on
13
reviews
3.615384
0
5
Reviewed by Cotheshawk from Nebraska on Thursday, September 19, 2013

I have already used this. It looks like "take me to your leader" but it works great.

Reviewed by Kym from Michigan UP on Wednesday, September 18, 2013

Looks like a great deal and I think he will like it.

Reviewed by Darren R from California on Saturday, September 14, 2013

Great product at a great price fast shipping wound recommended for anyone in a disaster prone city for emergencies .

Reviewed by petpal from TX on Tuesday, August 27, 2013

A good headlight for the price. Good to walk dogs with, etc.

Reviewed by Brandon Levi from North Carolina on Monday, August 26, 2013

If you can get these on sale, then go for it. The Krypton bulb is really weak, but it is nice having 3 light options to choose from. I'll probably just keep these laying around as spares or quick solutions for cub scouts.

Reviewed by Sparkle from California on Wednesday, July 17, 2013

I love flashlights so does my grandson. We both loved it. Another one for our collection.

Reviewed by OKIE Out West from New Mexico on Tuesday, July 2, 2013

I ordered 2 of these and one works great and the krypton bulb is pretty bright for not being an LED. The other headlamp the LED's work and the red LED works but the Krypton bulb is terrible, it acts like it has a short or isn't getting enough juice. For the price I'm satisfied they were super cheap and even with the one with the bad bulb the LED's work good enough for most purposes. If you want a quality headlamp this isn't it, but if you need a spare to keep in a vehicle or boat you can't beat the price on these, especially if you get a good one. I know I should have sent it back but I would have paid more for shipping than I paid for the headlamp.

Reviewed by SusieQ from California on Friday, June 21, 2013

The first night I used this headlamp, it fell apart at the seams in two places. Also, the on/off button is a crummy design. It pushes on really easily, came on in my pack, and I had no headlamp that night.

Reviewed by Rusty Nail from Nevada on Sunday, June 2, 2013

Outstanding product !!!

Reviewed by MIKEE from Alaska on Wednesday, May 29, 2013

It is great to have the option of a direct bright beam as well as a broad low light that does not draw the battery as much. Also uses AAA so batteries are cheaper.