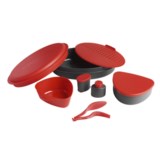 Closeouts. Take your meals "to go" with Primus' 8-piece meal set, which includes everything you need to have a meal away from home.
Average Rating based on
17
reviews
3.882352
0
5
Reviewed by Mitchhiker from Maine on Thursday, February 6, 2014

I thought the set was designed ok, but a little on the heavy side.

Reviewed by MrFriskyFrisco from New Britain, Connecticut on Tuesday, January 14, 2014

This is more or less a Tupperware container with all sorts of mini-gadgets inside. It would be ideal for work, but I find it impractical for camping. Something big and made for a rugged man is what I was looking for, not something for a petite twink.

Reviewed by no nickname from midwest on Tuesday, December 31, 2013

good quality and will last long I am sure

Reviewed by TJ from California on Friday, December 20, 2013

Haven't had this set long enough to speak to it's long term durability but, other than the collapsible, plastic fork/spoon, I don't anticipate any problems.

What works for me is the versatility. You don't need to take every component if you're heading out alone to save weight but there's enough to handle the needs of two. When backpacking alone I just fill the main section with other items, such as some paper towels, which alleviates any movement of what I do need.

While I don't see myself using the colander or "knife' the small spice / oil bottles are nice touch. Haven't seen leakage or spillage with either. I also like having the small cutting board and appreciate how everything nests together which limits movement of the pieces.

It might not be the choice for serious ounce counters but will definitely do the job for most. Pick this one up during one of STP's killer sales and you'll have made a good purchase.

Reviewed by camp girl from coloradp on Wednesday, October 30, 2013

Sorry, haven't used the set yet- but love the covers for two of the items

Reviewed by rmq11 from Arkansas on Monday, May 20, 2013

Place the bread on the cutting board then cut it with the . . . uh . . . cutting board.

Reviewed by thr3shadesofpink from colorado on Thursday, April 11, 2013

It is heavier than I thought, but I compared it to other sets and it's right around average. The lids fit together well, and I really like that the spice box has 3 compartments, very handy. Other sets I've seen do not have spice and oil containers, so it's well worth it. The fork/spoon does look very flimsy, so I purchased a fork, spoon, knife combo and it fits inside nicely.

Reviewed by ivfarmboy from Idaho on Tuesday, March 19, 2013

Actually has more than a scout needs and quality is good. Nice packaging.

Verified Buyer

Reviewed by gms from Chesapeake, VA on Thursday, February 21, 2013

Quality product...you will not be disappointed.

Verified Buyer

Reviewed by Hippie Cow Farm from Minnesota on Monday, January 7, 2013

I already had one of these and was lucky enough to get a second one for Christmas. These are great kits for the Minimalist. They are light weight and well constructed. They give you a great deal of versatility without bulk. The only down side is the utensils you get with it, they break easy. Make sure to bring another set with you. If you are looking for some nice mess kits for a scouting adventure to car camping, this is it.