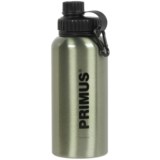 Closeouts. Primus' water bottle features a food-grade coating and has two openings to make both sipping and cleaning a breeze.
Average Rating based on
34
reviews
4.205882
0
5
Reviewed by HighAdvendureDave from Connecticut on Tuesday, August 13, 2013

Good construction. Nice dual opening. Great to sip from. HOWEVER....the diameter of this bottle is thinner than a standard Nalgene. If using a camp cup that fits on the bottom (to save space) it will rattle around like a cheap subcompact car after 100k miles. Also, the throat of the wide opening is smaller than a Nalgene resulting in none of our water purifying pump bottle adapters fitting securely. Very tough to see a Steri-pen through aluminum but you know that before buying. Nice to know that you could boil water in a survival situation (ignoring the interior coating warning). Tough to do that with a Nalgene.

Reviewed by Heidi from Missouri on Sunday, July 28, 2013

This bottle is great for the gym. It will fit in a car cupholder only if you have a wide one (I drive an old Ford that has a cup insert. When I take the insert out the bottle fits perfectly). The wide mouth is nice if you like to add flavorings to your water. The small mouth is easier to drink out of for Spin Class or just working out in general.

Water tastes just like water. Gatorade tastes just like Gatorade......no weird bottle taste.

The screw on lid (with a leash attachment to the bottle so you can't lose it) can be annoying to keep unscrewing versus a pop-top lid, but once you have the liquid only slightly below the top you can just keep it unscrewed as long as there is no danger of it getting knocked over (like in Spin Class when you have it on your bike)........

Overall a great BPA free bottle. I bought two...

Reviewed by Savana from St. Louis on Thursday, July 25, 2013

This bottle has a larger than usual capacity and still fits in the large cup holder on golf carts. How good is that on a hot day!

Reviewed by colorado from denver on Sunday, July 21, 2013

nice large size, i like the smaller opening for drinking. the worst part is that it sweats like crazy if you have ice in it. i have to keep a napkin around it, lest it drip down my shirt...

Reviewed by Irishman 245 from Gunnison, Colorado on Friday, July 12, 2013

Excellent bottle for the price. I like the bright color. Should help not getting left behind on the picnic table.

Reviewed by Al from San Francisco on Monday, July 8, 2013

I love the fact that it has two openings.

Reviewed by Al from San Francisco on Saturday, June 22, 2013

My family particularly loves the small opening because they can drink water without spilling the water all over their clothes.

Reviewed by Donna P. from Chicago on Thursday, June 20, 2013

This bottle went straight into the trash the day of its first use. Even though the removable lid and drinking spout still appeared to be properly sealed, half the contents of the water bottle had leaked into my gym bag all over my street clothes. Thank goodness it was after work and not midday. After an experience like this, I could never trust the bottle again so I threw it away. It was not worth the trouble of returning it.

Reviewed by Holt from Edwards, CO on Wednesday, June 19, 2013

Love this water bottle, especially for the sport-top opening which I use to control water intake. The only complaint I have with my most recent Primus water bottle is that the rubber O-ring, sealing the lid to the bottle, is a little loose and thus allowing water to leak.

I've had another Primus before and it was great. Best water bottle I've ever used. I'm sure this particular instance is just a matter of one-off manufacturing glitch.

Reviewed by Northeaster from New York, NY on Sunday, June 16, 2013

A good, larger size that works well. Being metal, the included belt hook annoyingly clangs against the body, but easily remedied by just removing it.