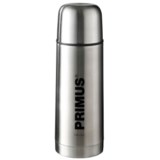 Closeouts. The Primus C&H vacuum bottle keeps your hot beverage at exactly the right temperature with insulated stainless steel construction and a reliable ClickClose seal.
Average Rating based on
10
reviews
4.200000
0
5
Reviewed by C D from Denver on Friday, September 18, 2015

I've had two of these and within 2-3 years both have failed and no longer insulate. The 12oz size is great for winter backpacking for a middle of the night hot drink or a cup-of-tea-for-two on a day hike. For awhile Primus was the only one to make this small size but now there are lots of others available. The push-pop cap is adequate but a little messy to pour with and loses a lot of heat compared to other designs. It can be unscrewed to disassemble and clean. The regular plug cap still isn't very heat efficient compared to other brands but it does better than the pouring cap. Nice simple thermos bottle. My problem is that both failed and Primus has an almost non-existent warranty - that is if you can even get them to reply to communication here in the USA. Since almost all thermos bottles are made in China these days and many don't have the quality that Stanley, Nissan, etc set the standard with, may as well just buy one from a company who will give good customer service and a decent warranty. I've since moved on to the small 12oz model from Montbell. I like the exterior form of Primus better, but the quality of the manufacture just isn't there. Nice bottle and you can't beat STP prices, just don't expect it to last long.

Reviewed by KTinSF from San Francisco on Thursday, September 10, 2015

Great for this heart-wave! I was looking for a stainless BPA-Free bottle that would keep ice cubes frozen all day long, and this is it. Ice cubes stayed solid for 24 hours, even after multiple openings. I bought two more, great size and works well.

Verified Buyer

Reviewed by Asics Lover from Arizona on Wednesday, September 2, 2015

Great size, smaller than most. The outside of it stays cool to the touch which surprised me. Would buy again and again!

Verified Buyer

Reviewed by AEH from Santa Cruz on Monday, August 17, 2015

Overall adequate product, seems to seal completely, holds temperature, perfect size for my older kids' lunches. The only drawback is you can't actually drink out of it without completely removing the top. You actually have to pour your drink into the cap/cup or it dribbles all down your chest.

Reviewed by takethecannoli from U.S. of A. on Wednesday, August 5, 2015

Very pleased with the quality of this vacuum bottle to keep water hot. I need these
because many family members primarily drink just hot or warm water, so this
is perfect for the car and short trips. It keeps the water hot. Do read all the directions,
which state NOT to pour milk or milk-based beverages (milk coffee, milkshake) into
the flask because those beverages harbor bacteria after a few hours, and can cause
bacterial growth which will make it a pain to clean.

Thankfully, using it just for water. It's a petite sized thermos, so it's not for a long road trip,
but the perfect size for an individual. Bought multiples for each person to have one.

Verified Buyer

Reviewed by Sharon from Orlando, Florida on Wednesday, August 5, 2015

I use it everyday. Keeps my tea very hot all day long.

Verified Buyer

Reviewed by rnroady from Texas on Thursday, July 30, 2015

Perfect for one person, easy to carry, easy to clean

Verified Buyer

Reviewed by GeeBee from TN-Tennessee on Monday, July 27, 2015

I did not want a huge vacuum bottle for my backpack and this one is the perfect size if you are traveling alone. Seems to be of good construction and like that it is BPA-free.

Verified Buyer

Reviewed by Olga from Ukraine on Wednesday, June 17, 2015

Small nice vacuum bottle for hiking. Good buy for small price

Reviewed by quietthemind from utah on Monday, January 6, 2014

The bottle seems fairly nice, but the primus ink will smear off some with washings; maybe entirely, I just haven't gotten that far. Doesn't matter much to me to see the name Primus, so I'll keep it for the price.