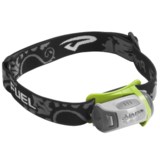 Closeouts. The compact Princeton Tec Fuel LED headlamp lights the way with three ultrabright LEDs and offers three brightness settings.
Average Rating based on
455
reviews
4.307692
0
5
Verified Buyer

Reviewed by Fizuck from Michigan on Tuesday, November 11, 2014

Inexpensive and comfortable to wear. This is my first head-lamp. Has 3 varying solid light settings with a blinking option as well. Provides excellent coverage and light intensity. Batteries included! See and be seen!!

Verified Buyer

Reviewed by Agrafenia from Alaska on Friday, October 31, 2014

We live in Alaska and it is mostly dark here in the winter. This is exactly what we needed. It produces the perfect amount of light for my kids to use to walk to school in the mornings. Our village is small and only 2 miles long, but it gets dark enough to need luminating. :-)

Verified Buyer

Reviewed by Derek from Utah on Tuesday, October 28, 2014

I picked up this headlamp as my previous Fuel had died after a long life. Plain and simple, this is a great tool to have for emergencies, camping, night-hiking, etc. Mine is in my car just in case. Great deal

Verified Buyer

Reviewed by Hard to please grouch from northern new york on Friday, October 17, 2014

What I expected. No complaints.

Verified Buyer

Reviewed by Debbie P from York, Pa on Friday, October 17, 2014

Bought one for everyone at home. Great for when the power goes out! Also use it when taking the dog out at night! I would recommend this headlamp.

Verified Buyer

Reviewed by Brian G. from Reston, VA on Thursday, October 16, 2014

This headlight is not very bright. It's kind of hard to turn on, and it only provides a fairly dispersed light. (It does not focus, like some headlights do.) It would suggest spending a few additional dollars on a better light.

Verified Buyer

Reviewed by Razorback from Texas on Monday, October 6, 2014

I have owned 2 of these lights, great brightness and lightweight.
The battery cover is horrible, the plastic on the hinge broke on both of them. One broke when I first took it out of the package.

Verified Buyer

Reviewed by TrailMixNC from North Carolina on Wednesday, October 1, 2014

It's not fantastic, but it's not terrible, either. The first time I took this headlamp out of its packaging and inserted t the included batteries, I was concerned by how cheap the plastic battery clasp felt. Hopefully the batteries last as long as advertised, so that I won't have to mess with and potentially break that clasp anytime soon. Please note that this is the older 'Fuel' version with only three LEDs. I've seen this same named headlamp elsewhere and it has four LEDs. The light radius emitted is very broad instead of narrowed, even on high mode, and dims dramatically after 15-20 feet. I would have also enjoyed a red light feature, but overall for this price point - especially if you use one of Sierra Trading Post's numerous coupons - there are no major complaints to be found.

Verified Buyer

Reviewed by Flock Busta from Minnesota on Wednesday, October 1, 2014

This little lamp is very bright and comfortable to wear. I used it when setting up decoys and it illuminates the entire spread.

Verified Buyer

Reviewed by Anthony G from Philadelphia, PA on Thursday, September 25, 2014

Every day I walk down to the creek behind my house over a very steep and uneven and pebbly path that goes for about 1/2 mile for daily aerobic conditioning. Since I finish work at 7pm, I would have had to give it up about now until late Spring were it not for this terrific device. In the dark, it lights up the path surprisingly well. The strap is comfortable and stays in place. The light itself, as I said, is quite adequate for my purposes. I have to say that I cannot tell much of a difference between low, medium, and high settings on the light. It's superfluous to me anyway. Very good product.