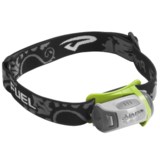 Closeouts. The compact Princeton Tec Fuel LED headlamp lights the way with three ultrabright LEDs and offers three brightness settings.
Average Rating based on
455
reviews
4.307692
0
5
Verified Buyer

Reviewed by Paddler from Sacramento on Tuesday, August 12, 2014

I like this light, for what it is. It's not super-bright, but works fine for 99% of uses. It's light, easy to use, water-resistant. The only problem I've encountered is that the plastic piece that shuts in the batteries tends to break off, making the light useless. Cheap enough to replace the light.

Reviewed by Todd from California on Wednesday, July 30, 2014

All I can say is...."Buy this headlamp."

I'm a gearhead who is always looking for deals IF the function isn't sacrificed. This headlamp fits that bill.

Comfortable, great coverage and easy to operate even with gloves. Yeah...it's lacking a red light mode but that's not something I personally ever really use. And while 43 lumens isn't going to be the most powerful beam out there I've used it night hiking and it's been more than sufficient.

For the price you'd be hardpressed to find a better functioning headlamp and you won't go wrong with Princeton.



Verified Buyer

Reviewed by Josh from Montana on Tuesday, July 29, 2014

Feels solid, worked well out of the box!

Verified Buyer

Reviewed by Elsabae from Maine on Monday, July 28, 2014

This is a great little light. I like the 3 levels of light and the batteries seem to last forever. I find that the balance between lumens and battery life is optimal. This is my second one because I went to replace the batteries in my first and the battery compartment door came open so abruptly that I broke the hinge. Oops! Promptly ordered another.

Verified Buyer

Reviewed by Adventure Tour Guide from Adirondack Mountains on Monday, July 28, 2014

We have tried a number of different headlamps for our Adventure Tour (caving in water). The low profile design, good light output and the ability to get wet and then work again make these a winner for us. We just ordered more. After each tour we take out the batteries and let the lights dry out and then they are good to go again time after time. We also like the design to pop out the batteries. They come with a 5 year warranty and they describe the above situation for drying out the lights in their literature (so assume that situation would not void the warranty).

Verified Buyer

Reviewed by Sue from Texas on Wednesday, July 9, 2014

Easy to use, light weight. Came in handy on my Grand Canyon river rafting trip for (it felt like a boot camp) 14 days. Bought by camp soap and hats for the trip thru Sierra.

Verified Buyer

Reviewed by Lindsay from San Francisco on Thursday, June 12, 2014

Have only used this inside my house so far but planning on getting lots of use out of it camping this summer. Is also nice to have around in case of power outages

Verified Buyer

Reviewed by The Bargaineer from NJ on Wednesday, May 28, 2014

We bought 3 of these headlamps and used them for camping this weekend. They are very bright and the headband adjusts so my 7 year old can wear it just as well as my husband. I really like the simple design - press once for full brightness, twice for dimmer light, thrice for flashing light and 4 times for off. It's also great that that everything is contained in one block. I just hate those headlamps that have a light in the front and a separate battery case at the back.

Reviewed by phlip from PNW on Monday, May 26, 2014

I purchased four or five of these when Cabelas had them on sale last fall. They are very light, bright, and comfortable. The only gotcha is the battery compartment latch. It's fragile and easily broken if you attempt to pry the lid open to replace batteries. I broke one (Cabelas replaced, no questions asked), and my brother-in-law broke three of the four he bought. Great light, but watch out for that battery latch.

Reviewed by backpackrrr from cal on Friday, May 23, 2014

i've had 2 of these. both broke the battery compartment latch. poor design on that latch.