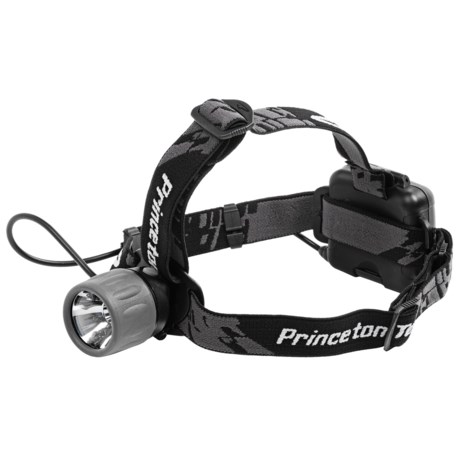 Quality USA MADE light.
Reviewed by Electro Tech from U.S.S.R of MD on Saturday, May 10, 2014
I found this headlamp several years ago on a competitors website. I bought two of them and used them extensively until losing one and the other finally broke after a very hard fall. Fast forward to last month and I found my broken one and decided to see if they were still being made. Sierra trading post came up as the first search hit and I promptly bought 3 of them. one for myself and the other two both sold via coworkers after seeing and using mine.
Fast forward to today and here I am buying several more since the price has now dropped even more than last time since these are being closeout listed.

It is a rare thing to find something like this that is still Made in the USA. That alone speaks volumes about the company that makes them.
The two mode LED operation is without comparison and a set of batteries will last a very long time. Up until the batteries are almost totally depleted, the LED's are still putting out useable light.

By todays standard these headlamps are totally old school, heavy and clunky since they still retain the top headstrap and traditional battery box on the rear. Both features that I personally like. It does not require very much tension on the straps to keep it securely positioned on your head and the battery box balances the weight front/rear. No stupid, exotic battery pack to fail or matching charger required. 3 AA batteries that are sold almost anywhere you turn.

Two complaints I do have. The on-off switch is not the greatest and there is no using it without taking your gloves off. Secondly the pivot point where the light attaches to the headband could be made slighty beefier and easier to adjust in the field if required. Both areas where my older Black Diamond collection of headlamps really excel.

Quality light, well made and bright as hell. If you pick up one of these and don't come away liking it then there is something wrong with you.


Most helpful negative reviews
Similar items and more information in the following areas: