Puma

Sizes

Gender

Style

Sleeves

Features

Length

Colors

Reviews

Events

Prices

Popular Puma Products

Search Within
The panther was an apt choice for the Puma brand, whose athletic shoes proved to be as swift, agile and well-respected as the jungle cat that inspired their logo. Puma shoes took Jesse Owens to four gold medals in 1936, Joe Namath to Super Bowl III, and Martina Navratilova to the Wimbledon winners' circle. Today, the ubiquitous Puma has boldly ventured into the urban jungle with an ambitious array of fashion sport shoes for the upscale casual market… infinitely stylish, yet built with the same cutting-edge comfort technology that defines Puma's cutting-edge athletic shoes.
About the Puma Brand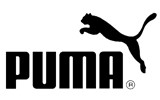 Reviewed by Likestotravel from Oklahoma on Tuesday, July 26, 2016

Ordered a large but was tight in hips. I reordered xl. It's great. A thin jacket which will be also be great to wear under a thin waterproof jacket. I'm 5'7 155 lbs. hips 41 1/2

Verified Buyer

Reviewed by Tahoe Him from Tahoe on Tuesday, July 26, 2016

I bought a size 8 for my 8-year-old boy because most of his other clothes are size 8. These trunks were way too big and were even too big for my 10 year old. I would have kept them for next summer except that the tie string was so short it was difficult to actually tie it.

Verified Buyer

Reviewed by Piper from Wisconsin on Tuesday, July 12, 2016

Fit as expected, lightweight, the color is more red than it looks in the picture but that was a plus!
Receive email updates for new Puma items