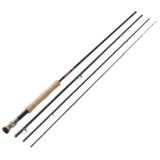 Closeouts. The Redington CPX Fighting Butt fly fishing rod is a fast action rod with a unique graphite spiral core wrap for the perfect combination of responsive performance and lightweight design.
Average Rating based on
14
reviews
4.428571
0
5
Verified Buyer

Reviewed by Anonymous from Taos, NM on Thursday, September 11, 2014

I purchased the rod with the express purpose of learning the "European Nymphing" technique and applying that technique to my fishing here in Northern New Mexico. However, let me say that I have not yet been able to get this rod to the water, so my comments must be qualified by that circumstance. So let me say that the rod appears to represent excellent manufacturing quality, mid-flex performance, looks good, and feels great. I am told by my "fly shop" guru(s) that this rod will be perfect for the fall when the Browns move up our big water river into tight quarters during spawning.

Finally, you can fly fish with a cain pole, but my judgement of fly rods considers the following criteria: performance, balance, visual qualities, and price. This rod delivers a lot of value for the price.

Verified Buyer

Reviewed by Anonymous from Taos, NM on Wednesday, August 20, 2014

First, let me say that as of today I have not fished with this rod. I received the rod about 2-3 ago, but "bad water" and warm temperatures have slowed down fishing in general. However, let me give you my first impressions after unpacking, examining, and testing the flex of the rod. I think STP has offered outstanding value for this Redington rod, which figures largely in the 5 Star Rating. You could pay much, much more for one of the "big boy" rod builders without seeing better features or better flex. The rod has very good fit and finish and the rod feels like it was made to fight large trout.

Finally, I did not want to pay a premium rod price, I wanted the best rod for the most reasonable price. I think I found it!

Verified Buyer

Reviewed by ghilly18 from The Great Central Valley, California on Saturday, May 31, 2014

I have been looking for a longer nymphing rod for a long time and this is it! The flex is a little soft but well within what I will use it for on the river. It casts like a dream and the length makes is easy to mend. I am impressed with the cork on the handle as many companies are going cheapo these days. The cork is solid and well formed. I would recommend this rod if you are looking for good mender or throwing nymphs on bigger water.

Verified Buyer

Reviewed by Old Sheepdog from Colorado on Tuesday, April 8, 2014

I purchased this rod for high-stick nymphing and lake fishing from a kayak. Since we are still iced over, I haven't done the lake thing yet, but have fished on the river with it several times. It is truly a heavy duty rod. It seems like maybe its closer to a 6 weight than a five, as it struggles on short casts, but nevertheless, has lots of power to fight fish in heavy current.

Reviewed by SB from California on Sunday, March 2, 2014

A really great rod for nymphing and high sticking. The extra length really helps in mending your line when you are indicator fishing. This is my first CPX but several people I have talked to think this could be the best rod that Redington has made. I was very impressed with the rod's finish and this is an excellent deal.

Reviewed by iamamultitasker from Northern California on Tuesday, November 19, 2013

Overall, I would say this rod fills a niche that is often overlooked. It is good for fishing from a float tube or from a river or lake where you have a sloped bank at your back. The extra foot allows you to get a better backcast without hitting the water/ground and then you can bang out long casts as necessary.

I've paired mine with a 7wt line and can punch out 75 foot casts fairly easily. For deep indicator nymphing on lakes or using heavy split shot on rivers, it allows you to throw your setup much easier than a standard lightweight 5-weight.

That said, this rod is heavy and does not feel like an elegant tool. It feels like a club, but sometimes it's good to have a club in your bag. It really is closer to a 6 weight rather than a 5.

Reviewed by Flyfisher Dan from California on Wednesday, November 6, 2013

The rod is a little heavy and not as fast as I had hoped. It will be OK for high stick nymphing but too much work to cast for distance. The #5 I bought in hopes of an all-around rod for nymphing and dry flies but it is really did not meet my expectations.

Reviewed by pebble Creek powder hound! from Idaho on Monday, September 2, 2013

Have used two times since purchase, nymphing one day, throwing dry's and streamers the next. Very impressed with casting, and sensitivity. One day was windy used two set ups one with my 6wt 9ft redington redfly, and one with the 5wt 10ft CPX. So impressed with the CPX, may be cause it's a foot longer but casting was much easier in wind, and roll casting. Can't beat it for the price.

Reviewed by Shrimpman from British Columbia on Saturday, August 17, 2013

This is not as much of a stiff beast as reviews have indicated for 9' CPX models, the extra foot helping to add a bit of flex to the tip. This is good for bombing out long lines from a float tube or boat, though I would not want to do it very frequently or for many hours. It is not heavy overall, but very heavy in the "swing weight".

Reviewed by Love my new Jacket from Sierra Trading Post from The Lake on Thursday, August 15, 2013

Redington has the best products at very affordable prices and Sierra Trading Post delivers every time. I am very grateful to STP for having such amazing products at amazing prices. Great rod, works well, and will out perform rods that are double the price.