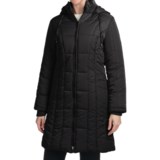 Closeouts. Quilted and flattering -- previously a dichotomy, but this Reilly Olmes quilted jacket changes everything with curved, figure-framing quilting that won't overwhelm.
Average Rating based on
56
reviews
4.214285
0
5
Reviewed by treelvr from VA on Friday, January 16, 2015

Bought this coat LAST winter after lots of shopping (both in stores & online, reading all the reviews). I was hunting for a LONGER-styled everyday-winter-jacket; most of the jackets available were only hip-length, &, I wanted one that would be mid-thigh to keep the cold winds out while I went on my daily 1 hr walks with my dog. This jacket is a perfect length for keeping the wind from freezing me - it is mid-thigh. I bought a Large which fits well; I am 5'6", 130 lbs.. For a 'puff'-type jacket, it is relatively unbulky-looking compared to other puff-jackets; it has a more flattering line to it, sort-of figure-shaped without being tight or body-hugging; it is still roomy. The collar is perfect height for keeping out the wind. I usually just wear a hat instead of using the hood, unless it is snowing/wet weather because the hood is cut large - it comes forward too far so it kind of blocks your vision; but, it does the job well of keeping the weather out. My only complaint is the zipper; when you put on the jacket you have to be very attentive/careful about pulling up the zipper because it tends to catch the fabric in it very easily & then takes some finessing to get it uncaught when that happens; you can't just zip-up hurriedly & run out the door without paying attention. It is frustrating/annoying when you're in a hurry. It would have been better to have a heavy-duty zipper with big-teeth instead of this lighter-weight zipper that catches the fabric. The zipper does zip from both directions, which is nice to be able to unzip from the bottom if you are shoveling snow or doing something where you want to free your legs more. The hidden hand pockets also have the light-weight zippers; although they do not catch, the zippers are inconvenient if you like to keep your hands in your pockets. The ribbed inner cuffs are great for keeping the cold out. I got the brown color, which is just beautiful! This jacket keeps me warm without added layers into the 30's. I love this jacket! The only reason I didn't give this 5 stars is the zippers.

Verified Buyer

Reviewed by Buzo the lip from Raleigh, NC on Monday, January 5, 2015

This jacket looks nice and keeps me warm in colder temps (30-40 degrees). The length and fit of the (size small) coat is just right for me (I'm about 4'11 and wear sizes 2-4). I'm glad to find something that wraps the body yet doesn't look like a sleeping bag.

Verified Buyer

Reviewed by Donna from Reno, Nv. on Tuesday, December 9, 2014

I like the coat very much but it is to small. I ordered a large but need an extra large because it is to confining for me, so I have to take it back.

Verified Buyer

Reviewed by displacedcalifornian from Michigan on Thursday, November 27, 2014

As a California, I have little to no tolerance to winter weather, so this has been the greatest thing to have around for the beginning of winter. I have yet to be cold or uncomfortable. It is warm and is not bulky. I love it!


Verified Buyer

Reviewed by Kim from Hamburg, NY on Monday, September 8, 2014

I bought 2: 0ne small & one medium for wearing extra sweaters. Had my seamstress replace the usual small zippers with larger plastic zippers as I always do. Perfect length and fit for ease of movement & driving. Very complimentary fit as well. Excellent value. Well made.

Verified Buyer

Reviewed by MACinSeattle from Washington on Sunday, April 27, 2014

I bought this jacket for winter use. It seems well made, but since I bought it at the end of the past winter, I only worn it once. It is very warm, has a good length for car use (I am 5'4"). I like the cuffs in the sleeves and the hood.

Reviewed by treelvr from Virginia on Saturday, March 29, 2014

I love this coat! I've been living in it the last few months since buying it. It is not bulky like so many of the "puff jackets" are, &, it does therefore look more flattering wearing it than a lot of the quilted "puff jackets" look. I love the longer length of this jacket; it was hard to find a stylish jacket in this longer length; it's almost a coat-length, but, not so long as to get in the way. I've been wearing it every day walking my dog, &, it has kept me dry through snow & rain; it does have a hood which really helps with wind & snow. For really cold weather, you have to wear layers to stay warm under it; the really good thing is that you can zip it up high into the collar to keep your neck warm. (So many jackets out there only zip up to below your neck & the wind whips into them at the neck). I bought the brown, which is a very pretty color. The only reason I'm not giving it 5 stars & am only giving it 4 stars is because the zipper is a nuisance to use; it frequently gets caught on the fabric as I'm trying to zip it up, &, I have to waste time & be patient working it off the fabric, backing it back down while pulling the fabric with my fingers. It should have had a heavier-duty type of zipper with a wider margin.

Reviewed by pattio from Minneapolis on Tuesday, March 25, 2014

I needed a coat to get me through the end of this LONG winter. This fits the bill. This coat is nicely shaped. Good length for getting in and out of the car. Double zipper works well. It's not too fluffy. It feels true to size. The pockets are difficult to zip and unzip because the gague of the zipper is small as is the pull. Hood is detachable. Very good value for the price.

Reviewed by Dee from Fairfield County CT on Monday, March 17, 2014

I chose this coat to replace a very warm but unflattering down coat that I purchased from STP over 14 years ago! The most important feature I was looking for was WARMTH! I read the other reviews and decided on this one and was not disappointed. New England winters can be demanding and this coat is perfect for my day to day commute or walking in the snowy woods without being bulky. I'm 5'4" and ordered size small. It falls right at the knee which keeps my legs toasty warm. There are knit cuffs on the sleeves to keep the cold air out and they do just that. The outside pockets are a little small but there are also small zippered pockets inside to stash ID, money, credit cards etc. As another reviewer stated, I also have a little trouble with the zipper but nothing that would prevent me from purchasing another in a different color!

Reviewed by NSA from PA on Friday, March 14, 2014

Great materials, design, and color. High quality product but affordable.