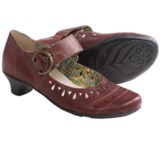 Closeouts. In a timeless Mary Jane style with a low heel and unique, floral-inspired cutouts, Remonte Dorndorf's Milla 11 shoes strike a perfect balance between stylish and sensible.
Average Rating based on
9
reviews
4.333333
0
5
Verified Buyer

Reviewed by angel from Utah on Thursday, April 30, 2015

This shoes are cute! They definitely run big. I ordered my normal size 10 and had to return them I then ordered a 1/2 size down and was still roomy, but good for me. I was scared to order because I struggle finding comfortable shoes for my wide/flat feet. This were wide and stylish enough. The only thing is that they are thin. I hope they'll still last a while. They could also use a little more arch support.

Verified Buyer

Reviewed by Butterfly Lover from So. California on Saturday, March 21, 2015

Nice leather shoe. Color goes with everything. Heel height is prefect for dresses, slacks or jeans. Fits true to size with nice toe room.
I don't like the large holes for the buckles as it makes the strap ever to loose or tight. No room to make your own hole punch.

Verified Buyer

Reviewed by casual dresser from Maine on Tuesday, March 10, 2015

sizing is definitely challenging. I went up according to other reviews but a size 40 for my usual size 8 1/2 was way too big. Was afraid the 39 would not be big enough...chose not to exchange, though it appears a lovely shoe, nice soft leather and nice styling.

Verified Buyer

Reviewed by always on my feet from Florida on Wednesday, November 5, 2014

These shoes are made of a super supple leather, are incredibly flexible, and look absolutely beautiful on. My feet are wide in the toe box and I have skinny ankles. This shoe accommodates both issues. The heel is just right for plantar faschitus. I'm looking forward to trying more shoes from this brand!

Verified Buyer

Reviewed by SuziQ from Upstate NY on Sunday, October 12, 2014

I typically wear a 9 1/2 size shoe, and have a medium - widish foot. I already own two pair of Remonte Dorndorfs - one, a size 40, that I purchased several years ago from STP (and they fit fine), and the other, a size 41, that I purchased elsewhere. The size 41s are too long for me (more like a true 10), but I wear them anyways because I can tighten them (lace up) and they were expensive! Therefore, I purchased the 40s in this style. They were too small - they seem like a true size 9. I love them otherwise. However, regretfully I am sending them back and not ordering the 41s, as I think they will just be too big on me. Unfortunately the European sizing - with less offerings then US sizing, seems to have skipped the 9 1/2 in this case!

Verified Buyer

Reviewed by Anonymous from New York on Monday, June 16, 2014

I usually order two sizes. This time I followed the STP recommendation to order down. I did, and only ordered one. the 39, way way too small.
I'm a 39 in Sanita, a 40 in Naot, which really runs small. Nice shoe, but I am sending it back. Caveat, it does not run large as claimed. Guvubg ut three stars since it looks like a lovely shoe, but I have no idea how it feels. My toes touched the front end all the way.

Reviewed by Anonymous from New York on Thursday, June 5, 2014

Against my better judgment I went with the STP recommendation to size down. Now, don't get me wrong, i discovered STP in late November of last year, and not sure if i have spent more money or more hours on the site. I love STP. like I used to love TJX before my house and car were destroyed each at different times on Long Island. . So being in NYC, and not having access to the best of the best TJX stores such as the ones in affluent areas such as Greenvale, NY (on long island, 20 minutes from NYC border), I have become a STP addict, albeit I do end up returning items that i buy in two sizes. This time, instead of buying the 39 and 40, which is my usual modus operandi (not sure that the returns dept is crazy about that) but nevertheless, i decided to trust the STP recommendation. WELL NO. the 39 is way too small. I wear a 39 or so in Dansko , and 38 or 39 in birks, a 40 in Naot. So to decrease my overload of returns, I ordered only the 39, it said, size down. Well, no. and (btw, same thing happened with the ecco hobart boots, one of the first items i bought when i started to spend my kids; inheritance on STP. SKIN, stands for spend the kids inheritance now.)) LOL. i needed a light colored "dress shoe" for me this is a dress shoe, to go with all of the long summer skirts. I can't wear heels, real heels for multiple reasons. Now, i do not feel like exchanging these , have never done an exchange, usually because i buy two sizes at one time. they must hate me in the returns dept. OTOH, I am singlehandedly keeping up the TJX stock price. I bought at the bottom, and sold way way too soon. Now, i have no energy for the market, I OCD all of the edails figuring out, what to buy at what coupon, on what day. Hey, i used to be a systems develpment programmer at IBM, this keeps my brain functioning. Strange thing, is that usually STP does not give advice on siziing, but when they do, it is totally contrary to my experience i wear a 38R in Birkenstocks. a 40 in Ecco, and remonte (Rieker) , i have boots i bought elsewhere (redacted by site administrators) in a 40.
i think that STP is listening to the wrong people.

and what the heck is wrong with those gorgeous Dansko Dani sandals. no size fits, ankle strap set in wrong place, or are my feet totally anomalous, and i just found this out in my emeritus years????? that was a heartbreaker. gorgeous style, great colors, and i ordered 4, with idea of keeping two, and they just won't hug the foot, the ankle strap is anchored wrong, or I am a freak of nature????? beautiful sandals, the best colors, price extraordinary, and most sites are not allowed to discount Dansko, and yet, they just don't work. and I the only one?

My rating on the remontes is based on the aesthetics, nothing else, have no idea how the right size would fit, or feel. another retur, and i thought i was finished with returns, for the time being......

Verified Buyer

Reviewed by Elizabeth from New York on Tuesday, April 15, 2014

These are very comfortable as well as attractive. (I got the dark red ones.) I'm a large and heavy woman who almost always wears flats and has a hard time finding nice shoes I can wear. These really hit the spot!

Reviewed by Bobbi from New Jersey on Monday, March 17, 2014

I find it difficult to find shoes that fit my orthotics and that stay comfortable throughout my work day.....these fit the bill!!