Remonte

Sizes

Style

Gender

Colors

Reviews

Events

Prices

Search Within
With a history dating back more than a century, the Swiss-German Remonte footwear company remains a leading producer of uniquely comfortable and glamorous women's shoes, sandals and boots. Holding true to company principles of quality craftsmanship and great value, Remonte shoes and sandals clearly show why high-caliber materials and foot-supporting construction form a priceless combination. This brand invests considerable time and effort into building shoes that are both attractive and functional, along with special attention to cushioning and comfort. If you've been searching for sleek, mode
... Learn more about Remonte
rn footwear that offers the absolute best mix of all-day support and impeccable style, Remonte boots, shoes and sandals are sure to impress even the most discerning customers. ... Less
About the Remonte Brand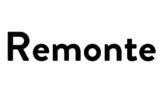 Verified Buyer

Reviewed by ChicagoChica from Chicago on Friday, October 14, 2016

One of my best buys this year. A very chic sandal in contrasting red and black ...goes well with many of my dresses and slacks. But, the Remonte shoes feel more like walking in slippers! They run true to size; and, like any quality, good-looking shoe, I feel like a goddess wearing them (for f......g 19 bucks).

Verified Buyer

Reviewed by dairylandpat from central wisconsin on Friday, October 14, 2016

My first experience with this brand, and I am delighted! The leather is soft and luxurious as is the felted wool insole. Although lightweight, support is excellent for walking on pavement. The lacing allows a great fit for my narrow foot and the zippers allow easy on/off. These ran true to size.

Verified Buyer

Reviewed by KRob from Utah on Thursday, October 13, 2016

Not quite a 5 but close. Super cute and comfortable. Compliments will come your way when you wear these unique boots!

Receive email updates for new Remonte items