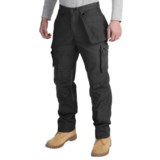 2nds. The Carhartt multi-pocket ripstop pants are made with exceptional durability and designed with outstanding convenience so you can get the job done in a snap. A handy utility pocket can be attached on the left or right hip, or removed altogether, and knee-pad pouches help protect your hardworking knees.
Average Rating based on
10
reviews
4.800000
0
5
Verified Buyer

Reviewed by Maaakaaa from Colorado on Thursday, November 10, 2016

Quite comfortable pants, even with the heavy fabric. I like the variety of pocket sizes better than standard large cargo pockets. I would personally prefer to not have the nylon knee pad pockets since I don't need them, or to have just a double knee. Neither tight or baggy. Waist fit is good and true to size, IMO.

Verified Buyer

Reviewed by Floyd from California on Sunday, March 20, 2016

great work pants heavy but because they are heavy duty. fit is true to size

Verified Buyer

Reviewed by Longshot from No. Cal on Tuesday, March 1, 2016

These are nice pants with lots of pockets and useful features like knee pad pockets for removable knee pads when being washed.
Nice pants at a nice price.

Verified Buyer

Reviewed by G. Hix from Tennessee on Tuesday, February 23, 2016

Another great design from Carhartt. Plenty of pockets for every day carry items...and more. I will be buying more of these.

Reviewed by Bart from Hatteras on Wednesday, February 17, 2016

I'm impressed with these pants - heavy duty construction/materials and comfortable too. I've looked them over several times and still can't figure out what's "irregular". I liked them so much I came back for a 2nd pair. But, alas, my size is sold out. Bummer.

I even like the contrasting knee pads - I call them my Bear Grylls pants. I have a set of pads intended for ACU trousers that work well in them. Did I mention pockets? I don't think I'll ever run out of places to put stuff and I'm not sure I'll ever use the snap on pocket.

The only I've noticed is very minor and doesn't matter for my purposes. Like just about every other manufacturer, they put the hammer loop on the wrong side. I never understood that. The majority of the world is right handed, yet most pants makers put the hammer loop on the left side. Obviously they've never swung a hammer in their life. Why not put it on the right so I can grab my hammer with the hand that uses it and not have to transfer it from one hand to the other?

One other note, these are cotton pants and will need to be waxed or treated with waterproofing if you plan to hit the trail with them.

Overall, I give them an A+. Can't beat 'em for the price.

Verified Buyer

Reviewed by armchair zoologist from california coast on Tuesday, February 16, 2016

there's something about those black knee pads. the "gravel" sold out in my size, maybe because the knees were same gray as the rest of the pant. i wanted those. first i tried the tan but the contrast was too striking, and i sent them back. the "moss" is a beautiful color, the contrast isn't as stark. these are tough pants, you're protected. one complaint: fancy compartmentalized pockets on right thigh without a single large pocket underneath. don't know what to do with that silly flap.

Verified Buyer

Reviewed by Joe D in UP from Upper Peninsula on Sunday, February 7, 2016

I was looking for a good pair of work pants and found them. I require lots of pockets in my work and like the loose fit. They are actually very similar to a pair of tactical pants we purchased a while back, only about three times cheaper. (The external snap on pocket is interesting but as yet, I can't think of a use for it.)

Verified Buyer

Reviewed by Layla from North Carolina on Tuesday, February 2, 2016

My husband loves this pants! Pockets galore and they fit amazingly. I would definitely purchase again if available.

Verified Buyer

Reviewed by DanB from Indiana on Wednesday, January 20, 2016

If you like extra pockets like me, then these are the pants for you. Great Carhartt quality and unique design for builders, remodelers, etc. The detatchable side pouch is great for jobs where a full tool belt isn't necessary. It has two smaller pockets in front with one larger pouch behind them. Overall a wonderful "work" design and a new favorite for me.

Verified Buyer

Reviewed by armchair zoologist from california coast on Sunday, January 10, 2016

i was attracted to the pockets, knee-thingys, even that crazy detachable pouch thingy. cray-cray. if you really need these pants, you'll be in heaven. i realized i don't really need all the bells and whistles. fabric is nice. legs are quite capacious, like zero tapering, is why i won't be wearing them. also, 34" inseam seams longer on these that on other pants. not sure why. too much of a good thing.