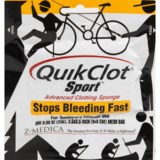 Closeouts. Adventure Medical Kits' QuikClot® Sport clotting sponge is an excellent addition to any first aid kit. Made of chemically inert material that speeds blood coagulation, QuikClot® beads are securely contained in a sterile, non-adherent mesh bag for easy application.
Average Rating based on
11
reviews
4.909090
0
5
Verified Buyer

Reviewed by Ralph from Ohio on Sunday, October 11, 2015

I have not needed to use it yet. Buy that while notion is why I have a job. I work EMS . I do a lot of hiking, camping, tree work, yard work, house renovations, and tinker a lot with sharp objects. Having the Quik Clot in my Jeep and home toolbox is great insurance for the " what it's". Nobody plans on needing EMS, but we are there. I don't plan on needing the Quik Clot, but its there..

Verified Buyer

Reviewed by Just as stated from Just as stated on Tuesday, September 29, 2015

Just as stated

Verified Buyer

Reviewed by Molly from Avon, CO on Friday, August 28, 2015

Small package that could be huge if needed.

Verified Buyer

Reviewed by JJCA from Louisiana on Sunday, August 16, 2015

Hope I won't have to use this but put in survival bag.

Verified Buyer

Reviewed by Woodman1 from Pennsylvania on Thursday, June 4, 2015

I'm an active bicyclist, canoeist, hiker and backcountry camper. I also take blood thinners and so I bought several of these as a first aid kit essential in case i get cut.

Verified Buyer

Reviewed by Dave from Fort Worth, TX on Thursday, May 21, 2015

I have not had to use this product yet. But in my research this was the best that you could buy. I have 3 packages of this and they stay in my first aid kit. The kit goes with me, hunting and fishing and I am totally confident that if I ever need to use this it will work. I am a person that likes to be prepared (proactive) and not reactive. But that is not to say everyone in my hunting group is the same. This product takes any worry I have and allows for a better hunt.

Verified Buyer

Reviewed by Hiker Penny from Boulder foothills, Colorado on Tuesday, December 9, 2014

Fortunately haven't had to use this yet - hopefully never, but something like this needs to be in every first-aid kit. Wish there were more than one per pack.

Verified Buyer

Reviewed by BB from Colorado on Thursday, September 18, 2014

What can I say if I haven't used it? Packaging seems good , Says use by 7-2016, but I have read plenty of opinions that say since it is an inert material (basically a mineral), that as long as the packaging keeps it sterile, you shouldn't need to throw it away and replace it. One other review I read says to fold a long strip of duct tape across the tear-off section so that if you are self administering, you will still be able to open the package if your hands are covered in your own blood...seems like a good idea to me. As many others have said, I Hope I never need to use it,but you can very easily end up in a situation where you need it. I also have some of the larger packets as well, since this one is a bit on the small side.

Verified Buyer

Reviewed by PAGearHead from PA on Wednesday, September 3, 2014

I'll be honest, I've never seen this used on a really serious wound, such as a gun shot or anything. However, I used it on a terrible knife cut, that went just way too deep for bandages, and quite frankly, needed stitches. That said, this stuff does what it intends and does it well. QuikClot is good for just about any first aid kit you put together, whether it's your car kit, home kit, outdoor excursion kit, grab a few and throw them in. The couple extra bucks you spend to add this, and have to actually use it, will be worth it in the long run.

Verified Buyer

Reviewed by cindyt from az on Monday, September 1, 2014

I purchased this for a recent camping/hiking trip. I already have the quikclot powder but this is an all-in-one on a sponge. Not sure how to rate it as we fortunately did not have to use it. I think it should be in every 1st aid kit.