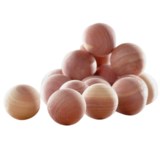 Overstock. Made from aromatic red cedar wood grown right here in the USA, neatfreak! cedar balls keep drawers, closets, storage spaces and wardrobes protected from pests and smelling fresh.
Average Rating based on
12
reviews
4.500000
0
5
Reviewed by Forrest_Snyder from Forrest_Snyder on Wednesday, January 13, 2016

The review title pretty much says it all. The balls have no cedar scent at all. I would expect to sand cedar to reactivate the scent after a year or two, but not when I recieve the items. I'm returning them.

Verified Buyer

Reviewed by Jomega from Baton Rouge on Wednesday, August 19, 2015

I haven't had a bug problem with my wool clothing for years--I just love the smell of cedar in the closet! These are smooth, so you don't have to worry about them snagging clothing. With as many of these cedar balls in my closet, I don't think I'll have to worry about bugs for years to come. When the aroma starts to fade, I just give them a quick sanding with a 100grit sand paper and they come alive again.

Verified Buyer

Reviewed by Erika from Coastal NC on Monday, August 10, 2015

They are amazing! No really, they are. Perfectly round, smooth and they smell great. The cedar is not overpowering but definitely does the trick for keeping clothes you don't wear all the time from smelling like a musty closet.

Verified Buyer

Reviewed by RoverMartian from Oklahoma on Monday, July 20, 2015

Perfect. I actually used for decoration pieces.

Verified Buyer

Reviewed by Donnie Gibson from West Virginia on Thursday, April 2, 2015

I use these for making paracord monkeys fist key fobs and they are great for that. Haven't tried them in the closet.

Verified Buyer

Reviewed by S.Real from MN on Thursday, February 26, 2015

Helped a musty closet and steamer trunk.

Verified Buyer

Reviewed by sarah from seatte on Saturday, January 31, 2015

I bought these and the circle with a hole style. I prefer the circles. I use them in my linen cupboard and for wools.

Verified Buyer

Reviewed by Rebecca from Texas on Friday, January 16, 2015

These were a great price to try them. I am placing them in small cheese cloth sacks to keep them from rolling into clothing. They small nice and will help keep moths from our wool clothing. I just like the blocks or cedar sacks better.

Verified Buyer

Reviewed by lindagirl from Texas on Wednesday, January 14, 2015

I love these...I have them scattered all around my cat feeder,closets and etc.I get bugs hatching from cat food and they eat on my clothes and the cats food,after so much of this I have to change the food out and clean the feeded...I hope the cedar balls will help with this problem.

Verified Buyer

Reviewed by Diane from Indy from Indy on Monday, December 22, 2014

Bought these because some little critter chewed on some of my smartwool items. Threw them in all my drawers and throughout the closet. Don't know how well they work yet but the price was about 1/3 of what I saw in Target.